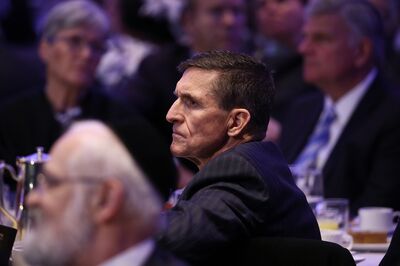 Ilya Arkhipov and Stepan Kravchenko
Russian lawmakers reacted with dismay and anger to U.S. National Security Adviser Michael Flynn's resignation, calling it a sign that Donald Trump's White House is driven by the same "paranoia" toward the Kremlin as previous presidencies.
Flynn's ouster over contacts with Russian Ambassador to the U.S. Sergey Kislyak shows that the Trump administration either isn't independent or suffers from "Russophobia," Konstantin Kosachyov, a member of the ruling party and chairman of the foreign affairs committee of the upper house of the Russian parliament, wrote Tuesday on Facebook. U.S. hawks treat a readiness for dialogue with Russia as an Orwellian "thought crime," he said.
Kremlin spokesman Dmitry Peskov refused to comment, telling reporters on a conference call Tuesday that Flynn's departure is an "internal matter" for the U.S. Peskov on Friday said reports that Flynn and Kislyak discussed U.S. sanctions against Russia late last year weren't true. Flynn said in his resignation letter that he'd given "incomplete information regarding my phone calls" with Kislyak, after U.S. Vice President Mike Pence publicly denied sanctions had been discussed.
Flynn's resignation adds to emerging doubts about Trump among Russian officials after initial euphoria that his presidency would herald a new era in ties with the U.S. following years of confrontation with Barack Obama. Trump's relations with Russian President Vladimir Putin are being watched closely amid allegations from U.S. intelligence agencies that the Kremlin interfered in November's elections to help him win. Trump repeatedly praised Putin during the campaign.
U.S. 'Hysteria'
The two leaders have yet to agree on a date for their first meeting, however, and the U.S. hasn't tempered criticism or eased sanctions over Russia's role in the conflict in Ukraine. Trump said during the campaign that he'd consider removing sanctions, and that he wants to explore cooperation with Russia in fighting international terrorism in Syria and elsewhere.
While Trump has yet to announce a clear Russia policy, "it may have been easier with Flynn in that position," to find common ground, Fyodor Lukyanov, head of a Kremlin foreign policy advisory board, said Tuesday. Flynn's focus on fighting Islamist extremism "could have helped Russia-U.S. cooperation," he said.
Flynn's a victim of his own mistakes and "anti-Russian hysteria" in Washington, said Oleg Morozov, a former senior Kremlin official who now serves on the foreign affairs committee in the Federation Council, the upper house. While Russia's ready for dialogue in response to Trump's "positive signals," it's under no illusions that improving relations "is a very difficult road," he said.
'Negative Signal'
The resignation is "a negative signal for establishing Russian-American dialogue," Leonid Slutsky, chairman of the international affairs committee in the State Duma, parliament's lower house, said, according to the Interfax news service.
"Flynn was the most publicly positive figure on Russia among Trump's key foreign policy staff and, given this, his departure could be a precursor of a more neutral/negative stance from Trump toward Russia," Sberbank CIB analysts Tom Levinson, Iskander Lutsko and Vladimir Tsibanov said in a research note Tuesday.
Flynn fell victim to an aggressive newspaper campaign in the U.S. fuelled by "paranoia and witch-hunts," Alexei Pushkov, a member of the Federation Council's defense and security committee, said on Twitter. The target of the campaign isn't Flynn "but relations with Russia," he said.