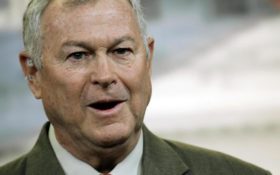 Horn News
How insane has the looney left become? Their rage has become so unhinged, they've now began knocking down senior women.
In Huntington Beach, California on Tuesday, an angry mob of anti-Trump protesters stormed Republican Congressman Dana Rohrabacher's office – and assaulted a 71-year-old woman so viciously, she was reportedly knocked unconscious.
Trump Voters Beware: Hillary launches deadly attack [sponsored]
The victim, district director Kathleen Staunton, was trying to exit through the front door of Rohrabacher's office to visit a restroom when she accidently bumped a 2-year-old child, causing the toddler to cry.
"She was just startled, mostly," the toddler's mother, Megan Blash, told The O.C. Register. She was not injured, but the incident sent the protesters into a rage.
"At least one of the activists then began tugging at the door while the woman on the other side, district director Kathleen Staunton, tried to close it. A male activist then grabbed the door and forcefully pulled it open. That caused Staunton, who was pulling from the other side, to fall," The Register reported.
The fall was so violent, Staunton was left dazed with a two-inch bump on her head… and later fell unconscious.
"I am outraged beyond words that protesters who mobbed my Huntington Beach office violently knocked down my faithful district director, Kathleen Staunton, causing her to be hospitalized," Rohrabacher said in a public statement. "And, yes, deliberate or not, the incident came as part of a mob action that not only intimidates but coerces. Though the protesters think of themselves as idealists, they engaged in political thuggery, pure and simple. These people do not want, as they've claimed, to hold a town hall meeting with me. These are unruly activists on whom the lessons of civility and democratic participation have been lost."
The violent protest was coordinated as part of a nationwide anti-Trump organization that call themselves "Indivisible" – and the group is planning similar disruptions across the country.
REVEALED: Hillary's plan to "overthrow" Trump [sponsored]
The O.C. branch, chapter 48, has declined to apologize for the incident, and has denied responsibility for the violence.
"These holier-than-thou obstructionists will be held responsible for this outrageous assault," Rohrabacher said in his statement. "They are exposing themselves for what they are — enemies of American self-government and democracy."
It is worth noting that Rohrabacher wasn't even in his office at the time. With the House of Representatives in session, the congressman is currently residing in Washington, D.C.
Staunton has managed Rohrabacher's office since his first term in 1989. After the assault, she was treated by paramedics at the scene and later taken to a local hospital.
— The Horn editorial team