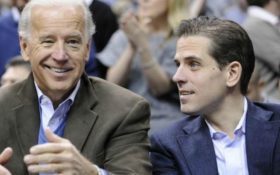 Horn News
Is this the biggest political drama of the century?
Former Vice President Joe Biden's son is having an affair with the widow of his other son, the late Beau Biden, according to reports.
Hallie Biden and Hunter Biden began dating after Hunter separated from his wife, Kathleen, the family says.
Hallie has two children with the late Beau Biden, the former Delaware attorney general, who died from brain cancer in May 2015. Hunter, a lawyer, has three daughters with his estranged wife, Kathleen.
"A source told us that … Hunter and Kathleen Biden separated in October 2015, five months after Beau's death and around the time that Joe Biden decided not to make a presidential run," The New York Post reported.
The couple filed for divorce after Kathleen asked him to leave the house in July 2015 "due to his conduct the night before," TMZ reported, citing their divorce filings. The couple allegedly had a prior deal that if Hunter again engaged in the conduct in question — the specifics of which are not described — that he'd leave the home.
The only detail on Hunter's alleged conduct is that it "creates situations that are unsafe or traumatic for the parties' children, and his judgment is frequently impaired."
"The October date is significant because the separation occurred just 2 months after stories surfaced Hunter was allegedly caught up in the Ashley Madison scandal… something he denied," TMZ reported.
In a statement to The New York Post, Hunter Biden said he and Hallie were "incredibly lucky" to have found love and support from one another during a difficult time.
The former vice president also stated their support for the relationship, saying, "We are all lucky that Hunter and Hallie found each other as they were putting their lives together again after such sadness. They have mine and Jill's full and complete support and we are happy for them."
The Associated Press contributed to this article