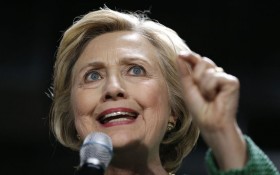 Horn News
Hillary Clinton refuses to go away, and she wants America to know that she's still upset — and it has gotten so bad, critics have begun questioning her sanity.
Hillary's latest public appearance on Tuesday was an embarrassing disaster for the twice-failed Democratic presidential candidate. Her unhinged post-election meltdown continued during her appearance at the Women for Women International Conference.
Former Speaker of the House Newt Gingrich and others were quick to criticize the episode, saying Hillary had lost her "grips with reality."
"It's like watching a car wreck in slow motion," Gingrich said in a recent appearance on Fox News. "The number one problem with the Hillary campaign was Hillary Clinton."
Hillary told the audience she accepted "absolute personal responsibility" for her embarrassing defeat in November — and then, less than a minute later, began blaming everyone and everything for her failures.
"I was on the way to winning until a combination of [FBI Director] Jim Comey's letter on October 28th and Russian WikiLeaks raised doubts in the minds of people who were inclined to vote for me but were scared off," Hillary complained. "If the election were on October 27, I'd be your president."
But it's not just the FBI and Russia's fault.
When she was asked by moderator Christiane Amanpour if she was a victim of misogyny, Hillary whined, "Yes, I do think it played a role."
That's right. According to Hillary, it wasn't the lying, the corruption, or the Clinton's shady foreign connections that cost her the White House.
Instead, Hillary still believes she lost because American taxpayers are sexist pigs.
The shameful meltdown even left mainstream media journalists shaking their heads.
The New York Times' White House correspondent tweeted the following reply —