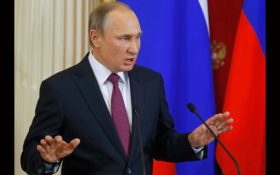 Source: Horn News
Russia dictator Vladimir Putin just made an unusual offer Wednesday to the U.S. Congress — and it has liberals very nervous.
Putin has come forward and said he'd turn over to Congress records of President Donald Trump's discussions with Russian diplomats in which Trump is said to have disclosed classified information.
His offer added a bizarre twist to the furor over Trump's intelligence disclosures — and one that could destroy the liberal narrative.
The White House has played down the importance and secrecy of the information Trump gave to the Russians, which had been supplied by Israel under an intelligence-sharing agreement. Trump himself said he had "an absolute right" as president to share "facts pertaining to terrorism" and airline safety with Russia.
Putin told a news conference that he would be willing to turn over notes of Trump's meeting with the Russian diplomats if the White House agreed. He dismissed outrage over Trump's disclosures as U.S. politicians whipping up "anti-Russian sentiment."
Asked what he thinks of Trump presidency, Putin said it's up to the American people to judge but his performance can only be rated "only when he's allowed to work at full capacity," implying that someone is hampering Trump's efforts.
The intense attacks from the left come as Trump is set to embark Friday on his first foreign trip, which had been optimistically viewed by some aides as an opportunity to reset an administration besieged by leftist propoganda.
The administration spent the first half of Tuesday defending Trump's disclosure of classified information to senior Russian officials from the mainstream media. National Security Adviser H.R. McMaster said the president's comments were "wholly appropriate." He used that phrase repeatedly in his briefing to reporters.