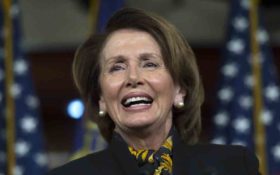 Horn News
The Democratic Party has gotten so out-of-touch, they're turning everyday political rallies into hate-filled rants laced with profanity.
Democrat leaders have cast blame for this year's outbreak in liberal violence on fringe members of their party — but this weekend, House Minority Speaker Nancy Pelosi was seen joining in, cackling as hundreds of leftists chanted "F–k Donald Trump!" at a rally.
There was a time when both political parties, right or left, showed decorum and respect while in public.
Basic civility is a thing of the past now, though, because the liberal playbook has changed.
The modern U.S. left relies on feelings, not facts… and to win elections, they need Americans feeling very, very angry.
So the California Democrat State Convention, held Saturday, concluded with outgoing party Chair John Burton, a longtime Democratic lawmaker and powerbroker in the state, extending two middle fingers in the air and cursing the president as the crowd cheered and joined him.
Behind Burton, Democratic leaders, Congressmen and women, and former White House executives from President Barack Obama's administration, laughed and encouraged the crowd's angry yells.
This wasn't the only profanity-laced rhetoric coming from the stage, of course.
The entire event was filled with this nasty behavior.
Watch Burton's ugly response to protesters, for example. (Warning: This has very foul language) —
It's this kind of smug attitude of superiority that has the Democratic Party losing election after election.
At this rate, they'll never win again.