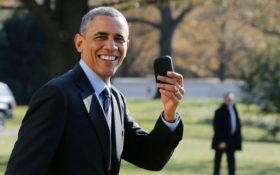 One of former President Barack Obama's pet programs, the so-called "ObamaPhone" subsidy that gave the poor a free cell phone and service, was just audited by President Donald Trump's administration.
The reported amount of fraud and waste the auditors found is staggering.
According to The Washington Times, "The report, requested by Sen. Claire McCaskill, Missouri Democrat, also says the program has stashed some $9 billion in assets in private bank accounts rather than with the federal treasury, further increasing risks and depriving taxpayers of the full benefit of that money."
That's billion with a "B". All taxpayer money that has been lost in private bank accounts.
"A complete lack of oversight is causing this program to fail the American taxpayer — everything that could go wrong, is going wrong," said McCaskill. "We're currently letting phone companies cash a government check every month with little more than the honor system to hold them accountable. That simply can't continue."
The report found that of the 10.6 million individuals that have been given a taxpayer-funded phone, up to 36 percent of them may not qualify for the program.
That means there could be 3,816,000 deadbeats billing you and your family for their cell phone usage every month.
It gets worse.
"More than 5,500 people were found to be enrolled for two phones, while the program was paying for nearly 6,400 phones for persons the government has listed as having died," The Washington Times report stated. "Investigators also submitted fraudulent applications to see what would happen, and 12 of the 19 phone carriers they applied to approved a phone."
Of course, that only includes the portion of the people surveyed — that number is probably much, much higher.
How did this happen?
There's a complete lack of oversight, critics say. It's just government money being thrown into a black hole.
Clearly, it's time for Trump to end this wasteful welfare system — for good.