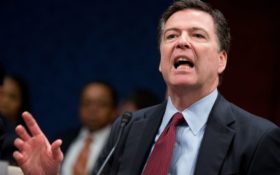 Source: Horn News
Former FBI Director James Comey is in serious trouble — and he could spend time behind bars for it.
A bombshell report has found that Comey's personal memos were filled to the brim with classified information, which means sharing them with liberal media outlets would be a crime.
The revelation that Comey intentionally turned multiple federal secrets over to unauthorized mainstream media outlets has left legal experts speculating: Will Comey end up in handcuffs?
"More than half of the memos former FBI chief James Comey wrote as personal recollections of his conversations with President Trump about the Russia investigation have been determined to contain classified information, according to interviews with officials familiar with the documents," The Hill reported Sunday.
Trump called the act "so illegal" and expressed his discontent on social media —
The president's comments came after he retweeted a video clip from Fox and Friends about the report —
This isn't the first time that insiders have speculated the handcuffs were coming for Comey.
Former Speaker of the House Newt Gingrich implied in early June that "someone" — presumably Comey — should go to prison for the FBI's criminal mishandling of the Trump-Russia probe.
"They're going to get somebody. I don't think they're going to get the president, but they're going to get somebody, and they're going to get him for something. And they're probably going to go to jail," Gingrich told Fox News host Sean Hannity on June 16.
Gingrich had previously demanded Congress dissolve the special counsel investigating Russia's meddling in the 2016 presidential election, saying it was unfairly "tainted" by Comey's anti-Trump bias.
Additionally, others have pointed out the existence of classified information on Comey's leaked memos means he committed an additional crime — perjury.
During his sworn testimony to Congress, Comey repeatedly said that to the best of his knowledge, his memos only contained unclassified information.
It seems that was a lie.
According to The Hill, "Four of the memos had markings making clear they contained information classified at the 'secret' or 'confidential' level, according to officials directly familiar with the matter."
"A spokesman for the FBI on Sunday declined to comment," The Hill's report continued. "FBI policy forbids any agent from releasing classified information or any information from ongoing investigations or sensitive operations without prior written permission, and mandates that all records created during official duties are considered to be government property."