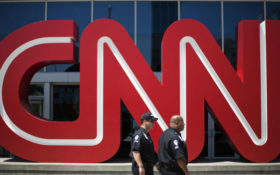 Following the revelation that the liberal media's reports of a "secret" meeting between President Donald Trump and Russian President Vladimir Putin was fake news, CNN's Chris Cillizza attempted to defend his network.
But in doing so, he managed to do the unthinkable. And reported fake news about fake news.
CNN continues to dig themselves deeper and deeper into a fake news hole, but did they finally go too far this time to recover?
After multiple media outlets had a meltdown over a report that Trump and Putin had a conversation at a dinner for world leaders and their spouses, Trump defended himself on Twitter from "fake news."
That's when Cillizza attempted to prove the president wrong, but instead embarrassed himself and his network.
He published an analysis piece Wednesday in an attempt to accuse Trump of tweeting false information, but he forgot to do his research. Cillizza wrote, "No media outlet reported anything about a 'secret dinner'. No one is making the dinner look 'sinister'. And, no one is suggesting that the media was unaware that the dinner was taking place."
But he's completely wrong, and he didn't have to look past his own network to realize!
Early that day, CNN anchors Brooke Baldwin and Kate Bolduan said on air that Trump's meeting with Putin was "secret," according to Breitbart.
Boulduan referred to the meeting as "secret" on two separate occasions, calling it a "secret sitdown," and questioning "why wasn't it revealed that they met for a second time?"
And if he looked at other notoriously liberal media, he would see that they were making the claims he so vehemently denied anyone was making.
The Washington Post's headline on Wednesday read, "Why did Trump meet secretly with Putin? Here are 3 theories." While they suspiciously changed their headline to remove the world "secret", the truth is revealed in the url, which still shows the original title of the article.
The writer Aaron Blake also tweeted with that forbidden word:
This is seriously embarrassing for CNN, who has been caught reporting fake news an alarming number of times since Trump's election.