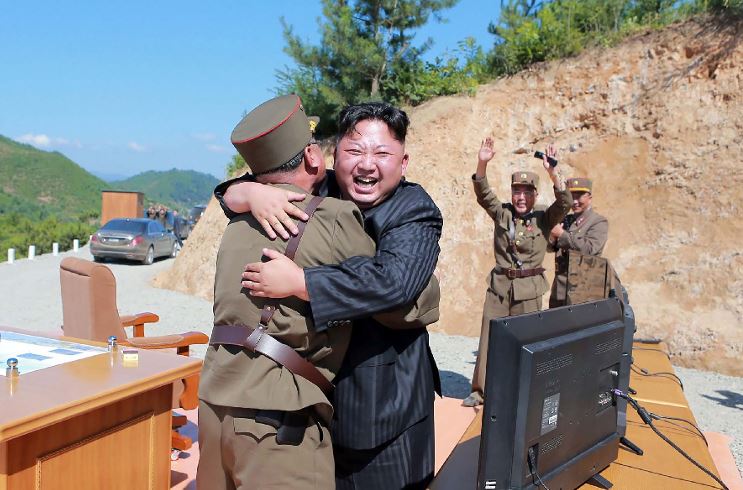 North Korea fired a ballistic missile late Friday night, which flew for about 45 minutes and appeared to fall within Japan's exclusive economic zone, Chief Cabinet Secretary Yoshihide Suga told an emergency news conference in the early hours of Saturday morning.
The latest firing, one day after the 64th anniversary of the end of the Korean War, comes only weeks after Pyongyang launched what it claimed was an intercontinental ballistic missile (ICBM) capable of reaching parts of the United States.
Friday night's missile fell into the sea off the western coast of Hokkaido, according to an anonymous Defense Ministry source quoted by NHK. It appeared to have been launched from northern Jagang Province, around 60 kilometers from North Korea's border with China.
Key Japanese Cabinet ministers met at the Prime Minister's Office shortly before 1 a.m. Saturday.
"I've received an initial report that the North dared to fired a ballistic missile again," Prime Minister Shinzo Abe told reporters at the Prime Minister's Office.
Tokyo immediately filed a protest with Pyongyang, denouncing the firing as a "clear violation of United Nations Security Council resolutions," Suga said.
Whether Friday's missile was another ICBM will be the focus of intense scrutiny among military and diplomatic experts around the world. An unnamed Japanese government source suggested it is likely to have been an ICBM given its estimated altitude and range, according to Kyodo.
The launch time was stated by Suga as 11:42 p.m., this being echoed by the Joint Chiefs of Staff of South Korea who reported the launch to have been made around 11:41 p.m., according to South Korea's Yonhap News.
Japan's exclusive economic zone extends 200 nautical miles (370 km) from its coast, into the Sea of Japan.
Officials in Tokyo, Washington and Seoul have been carefully monitoring the activities of the North Korean military, in anticipation of another ballistic missile launch by Pyongyang as it hopes to demonstrate progress in its development of missile technology.
Earlier Friday, a senior Japanese official had warned North Korea could fire a missile at any time over the weekend.