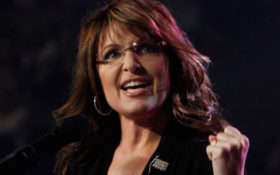 Former Alaskan Governor Sarah Palin isn't messing around.
And she just proved to The New York Times that she is not to be messed with.
In court documents filed Wednesday, it was revealed that Palin plans to subpoena close to 12 New York Times reporters, editors, and workers in a defamation lawsuit against the paper.
The Times published an article linking an advertisement released by Palin's political action committee to the 2011 shooting that left Arizona Democrat Gabby Giffords severely wounded and six innocent lives lost.
It was an outlandish claim that has no evidence to support it, and essentially misled the public into believing that Palin was behind the mass shooting.
Now The Times is attempting to use her subpoenas as reasoning to have the case dismissed.
Their lawyers complained that Palin was planning to subpoena, "twenty-three non-party current and former Times reporters, editors, and other employees — most of whom had nothing to do with the editorial at issue."
But their complaint didn't stop there. They argued that Palin's reasoning has nothing to do with clearing her name, but instead is part of an effort to obtain, "documents that might reveal, among other things, their 'negative feelings' toward her."
The defense for the biased magazine is that Palin cannot prove they acted with malice, so she can't support her case of defamation.
But Palin's lawyers can clearly see where the ill intent came from, and plan to prove that in court.
They will argue that The Times was well aware the claims they were making were false, but "fabricated the link anyway" in order to increase views and line their pockets.
Palin is suing for damages that will be determined by a jury at trial.
-The Horn editorial team