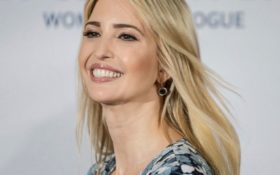 Horn News
While the media swoons over alleged Russian collusion and criticism of President Donald Trump, they're ignoring the members of his administration going out of their way to do good for the American people — particularly his daughter, Ivanka Trump.
Ivanka and Education Secretary Betsy DeVos teamed up Tuesday at the Smithsonian National Museum of American History, encouraging young girls to follow their dreams.
The two read "Rosie Revere Engineer" to the group, to encourage them to pursue knowledge about science, technology, engineering and math (STEM).
Ivanka told the group of 6-10-year-olds from the Boys and Girls club and the YMCA, that the specific book was a favorite of her 6-year-old daughter Arabella's.
Ivanka tweeted a video from the event:
The event was intentionally timed mid-summer, "to encourage students to stary acively engaged in their education while on summer break," according to a U.S. Department of Education press release.
DeVos also took to Twitter to share her excitement about the event:
It's safe to assume, had this been former First Lady Michelle Obama, the media would have swooned to cover her beautiful encouragement of young American women.
But when it comes to the Trumps, the media has one agenda: stir the pot, and stew in it.
-The Horn editorial team