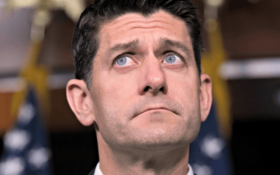 House Speaker Paul Ryan just proved his hypocrisy when speaking out against President Donald Trump's desire to end the Deferred Action for Childhood Arrivals program, because he said the completely opposite thing in 2014.
Since Trump has spoken about against the program, Ryan has acted in his typical anti-Trump fashion and publicly gone against the president.
[SHOCKER] Hillary's "Hit List" revealed to public [sponsored]
The Trump administration was expected to announce termination of the program, of which Ryan said, "I actually don't think he should do that, and I believe that this is something that Congress has to fix."
But he actually agreed with Trump's current opinion in a 2014 interview with Fox News' Sean Hannity.
"First of all, it's unconstitutional," Ryan said of DACA. "So we're already going through the court system on other unconstitutional executive orders that [Obama] has worked on and we would add this to the pile."
Sponsored: Could this miracle finally bring hope to America?
See the hypocrisy below:
Trump suggested Tuesday it was up to Congress to ultimately decide the fate of hundreds of thousands of young immigrants brought into the country illegally as children, tweeting: "Congress, get ready to do your job – DACA!"
Trump has no announcement on his Tuesday schedule, but Attorney General Jeff Sessions, a harsh opponent of the program, has scheduled a press briefing on the topic later Tuesday.
Trump's expected plan to take a hard line on young immigrants unless Congress intervenes threatens to expose deep divides among Republicans who have long struggled with the issue, with one conservative warning of a potential "civil war" within the party.
Sponsored: Cancer cure dissolves tumors in as little as 48 hours
Trump's decision would come after a long and notably public deliberation. Despite campaigning as an immigration hard-liner, Trump has said he is sympathetic to the plight of the immigrants who came to the U.S. illegally as children and in some cases have no memories of the countries they were born in.
Ryan and a handful of other Republicans urged Trump last week to hold off on scrapping DACA to give lawmakers time to come up with a legislative fix.
But Congress has repeatedly tried — and failed — to come together on immigration overhaul legislation, and it remains uncertain whether the House would succeed in passing anything on the divisive topic.
Sponsored: Do 4 top shampoo brands cause Alzheimer's? (open for details)
One bill addressing the issue that has received the most attention, introduced by Sens. Graham, R-S.C., and Dick Durbin, D-Ill., would grant permanent legal status to more than 1 million young people who arrived in the United States before they turned 18, passed security checks and met other criteria, including enrolling in college, joining the military or finding jobs.
It's unclear, however, whether the president would throw his support behind that or any other existing legislation. He could encourage the writing of a new bill — tied, perhaps, to funding for his promised border wall or other concessions like a reduction in legal immigration levels.
Sen. James Lankford, R-Okla., agreed, saying that it should be up to Congress, not the White House, to set immigration policy.
TRENDING: the 1 simple movement to loose, limber joints [sponsored]
"We must confront the nation's out-of-date immigration policy and finally resolve the issues of strong border enforcement and merit immigration," he said. "It is right for there to be consequences for those who intentionally entered this country illegally. However, we as Americans do not hold children legally accountable for the actions of their parents."
But Rep. Steve King, an Iowa Republican who believes that DACA is unconstitutional, warned that pushing the decision to Congress would be a big mistake.
"That would cause a great big civil war among the Republicans," he said last week. "We've got enough of never-Trumpers in Congress that are undermining the president's agenda."
He added on Twitter late Sunday night: "Ending DACA now gives chance 2 restore Rule of Law. Delaying so R Leadership can push Amnesty is Republican suicide."
The Associated Press contributed to this article.