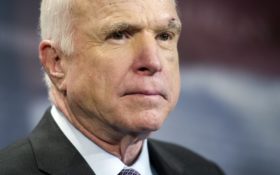 Source: Horn News
U.S. Sen. John McCain says doctors have given him a "very poor prognosis" as he battles brain cancer.
McCain underwent surgery in July for a brain tumor that was later found to be a form of glioblastoma, the same type of cancer that took the life of his former Senate colleague Edward M. Kennedy in 2009. McCain tells CBS' "60 Minutes" in an interview that aired Sunday night that he thinks about Kennedy a lot.
He says Kennedy continued to work despite the diagnosis and "never gave up because he loved the engagement."
"Some say 3 percent, some say 14 percent. You know, it's a very poor prognosis. So I just said, 'I understand. Now we're going to do what we can, get the best doctors we can find and do the best we can.'"
McCain is a former naval aviator who held prisoner of war until 1973 after hewas shot down over North Vietnam in 1967.
He revealed he hopes his memorial service is held at the Naval Academy in Annapolis, saying he hopes, "We just have a couple of people that stand up and sat, 'This guy, he served his country.'"
McCain says he has "feelings sometimes of fear of what happens," but counters that with gratitude for having lived "had a great life."
He adds: "it's not that you're leaving, it's that you — that you stayed."
The Associated Press contributed to this article.