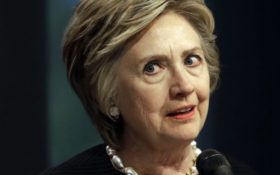 Horn News
Twice failed presidential candidate Hillary Clinton isn't known for her positive public image — but Monday she went too far.
Hillary's opportunistic tweet following the massacre in Las Vegas that left 58 dead and over 500 wounded didn't just disgust conservatives.
Hillary's Post-Inauguration Meltdown caught on camera [sponsored]
Across the political spectrum, critics almost universally agreed: It's time for Hillary to stop talking.
Instead of simply offering her thoughts and prayers to the victims or asking for unity and support during this time, Hillary did what she does best — she used the massacre to further her own political aims.
She immediately attacked the second amendment and the National Rifle Association —
Of course, anyone with experience with firearms knows that the presence of a flash suppressor or silencer wouldn't have helped the gunman hide.
Unlike what Hillary thinks, this isn't the movies.
According to The Blaze's Dana Loesch, it's like trying to muffle a jackhammer with a pillow.
Hillary wasn't satisfied with just spreading misinformation, though.
She also told Americans it wasn't enough to be filled with grief, and said they should seize the opportunity to attack her historic rivals in the NRA —