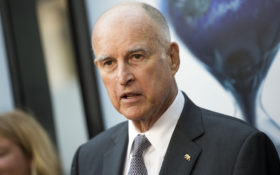 Melanie T. Collins
California's newest Democrat-backed law may be it's most insane. Rather than focus on fighting deadly wildfires, liberals in the state pushed forward an effort this week that warns residents: Use the "proper pronoun" for transsexuals… or go to jail!
The blue state is seeking to expand a law requiring those working in public spaces call persons by their desired pronouns, regardless of religious objections.  The new law just passed the California House includes jail time for anyone who refuses to call a transgendered person by his or her or it's "preferred pronoun."
CNN On Verge Of Total Shutdown [sponsored]
In other words, if a man is dressed as a woman, you'd better call her ma'am… or you're going to prison.
What is probably most startling about this law is that if someone repeatedly calls another person by the "wrong pronoun" they could get more jail time than if they knowingly infected someone with a life-changing illness.
Sponsored: This ONE thing could help reduce your cholesterol [Not what you think…]
If you give someone HIV on purpose in California, you'll be punished less harshly than if you hurt their feelings. This is due to a recent law lowering the amount of time for knowingly infecting someone with HIV to a maximum of six months.
The controversial pronoun bill is making its way through the California Assembly smoothly, with unanimous support from the Assembly Judiciary Committee. If passed, the new law will punish violators with $1,000 fine and up to a year in prison.
Sponsored: Did a 1934 Prophecy Predict These Earth Shattering Events?
Advocates of the law argue First Amendment rights to freedom of religion and free speech die at the doorstep of public space.  The argument is in the public space, civil law trumps religious laws.
Opponents say the thwarts free speech and stomp on religious liberty.
As Greg Burt of the California Family Council articulated this when he testified against the bill in July, "The bill seeks to make their view of gender illegal… compelled speech is not free speech … what is coming next?"
— Melanie T. Collins is a contributing writer for The Horn News and host of the "MoneyTalk with Melanie" show. She is an outspoken conservative with a passion for small government and finance.