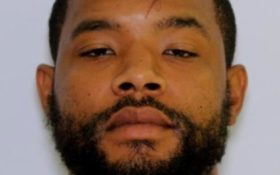 Source: Horn News
A massive manhunt began Wednesday afternoon for a man that shot five individuals at an office building in Edgewood, Maryland and one at a used car lot in Wilmington, Delaware.
Authorities reported that they captured Radee L. Prince of Belvedere, Delaware late Wednesday night near Glasgow, Delaware.
Wilmington police Chief Robert Tracy said the suspect, did know all of his victims, and authorities do believe they were targeted.
"These were targeted shootings, this is a dangerous individual. This person shot six people in one day. This is a person with no conscience," reported Tracy, at a press conference in Wilmington.
Three of Prince's six victims died and those victims have been identified as as Bayarsaikhan Tudev, 53, of Virginia; Jose Hidalgo Romero, 34, of Aberdeen; and Enis Mrvoljak, 48, of Dundalk.
"All five individuals who were shot, including the three who are deceased at this point, do, too, all appear to be employees of this business," Gahler said. "(Prince) worked here for about the last four months and today was a scheduled work day for him."
The two other victims injured at the office park were taken to Shock Trauma–both remain in critical condition Thursday at the University of Maryland R Adams Cowley Shock Trauma Center, said spokeswoman Karen Lancaster. She declined to release additional details on their injuries.
Gahler reported that there was no indication to employees that the shooting was going to take place.
"It looks like a single weapon was used in this incident," Gahler said. The weapon was reportedly a handgun.
Soon after opening fire at his office building, Prince drove 55 miles to Wilmington, Delaware and shot a man who he has "beefs" with in the past. That man did survive the shot to his head, and was able to identify Prince to the police.
Authorities have not yet disclosed a motive for Prince's shooting. They have reported that he had a past legal record with an alleged history of workplace violence, gun charges, traffic violations and problems with his probation.
Prince had been fired from a job in Mayland earlier this week after allegedly punching a co-worker. After being fired, he scared his former employer so badly that the man tried to get a restraining order.
Wilmington police explained in a news conference Wednesday night that had spotted Prince in a neighborhood in Glasgow where he had left his SUV parked near a high school. A civilian reported the car to authorities and officer found him nearby. He threw his gun before being arrested, but no one was hurt in his capture.
–The Horn editorial team