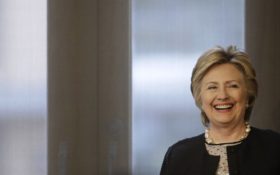 Source: Horn News
One year after defeat, Clinton's top aides are still raking in the dough.
The Federal Election Commissions (FEC) filings show that Clinton's right-hand aides are still being paid her campaign committee almost an entire year after she was defeated by President Donald Trump in the presidential election.
Failure Hillary has remained close to her aides and even she even still has some of them working for her–even though she is unemployed herself.
The election war chest was stuffed with $1.4 billion Having stuffed the election war chest with $1.4 billion for crooked Hillary, and she has not been shy in keeping the excessive amounts of donations…all for herself and her aides.
Since last November, the aides have collected thousands of dollars from Hillary for America, the failing presidential campaign committee.
Crooked Hillary's highest paid aid this year, Elizabeth Jones,  was Clinton's chief operating officer of Hillary for America. Jones has raked in a total of $95,000 from the campaign this year. WOW!
Huma Abedin, wife of the former Congressman turned creepy sex offender, Anthony Weiner, acted as Clinton's vice chair of the campaign–also known as her assistant.
Abedin collected over $67,000 since the ending of the election. FEC filings show that she was paid $65,000 between mid-November to the end of June, and from the beginning of July until the end of September, Abedin was paid a little more than $2,000.
FEC filings report that Hillary's treasury manager for Hillary for America, Kelly Mehlenbacher, has been paid $38,117 from the campaign this year.
Clinton's closet aid for the past decade, Robert Russo, has been paid roughly $36,000 in from Hillary for America since last November. He is now an active employee of Clinton's personal office, the Office of Hillary Rodham Clinton.
Hillary's deputy digital director for her campaign, Jenna Lowenstein, received $7,831.59 from the campaign in January. Between February and April, Lowenstein was paid an additional $27,508.48  from Priorities USA, the largest liberal super PAC that backed Clinton's presidency. She was again paid $8,750 from Clinton's campaign for digital consulting and technology services between April and late September, according to filings.
Another former aid for Clinton was paid a generous amount since last November. Hillary's former Hillary for America spokesman, Nicholas Merrill, has been paid $24,357 this year according to the FEC.
All the thousands of dollars spent on Hillary's aids and not a dollar was donated to a charity, or given back to her campaign donors.
Critics have suggested that Clinton has paid out the money to her top aides in hopes that they will keep their mouths shuts on her crooked actions.
Clinton's campaign treasurer did not return a request for comment on the continued payments by press time.