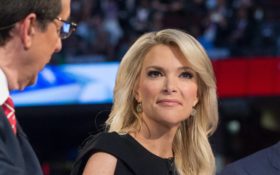 Horn News
Since joining NBC, Megyn Kelly has struggled. Kelly has largely failed to provide network executives the ratings they envisioned when signing her jaw dropping $18 million dollar contract.
In a desperate bid to jump her ratings, Kelly went back to a reliable source of publicity Monday: Attack President Donald Trump.
Kelly hosted three women that have accused the president of sexually assaulting them in the past. They have provided no evidence for their claims, and Trump has consistently denied the allegations and called the women liars.
But it might be too late to save Kelly's job.
The embattled former Fox News star received very bad news about her show's ratings last Tuesday.
To put it bluntly, Kelly's ratings are bad. Very, very bad.
So bad, Kelly's show was the worst performing morning show in NBC history in November.
NBC executives are facing increased pressure to fire Kelly for good.
Following the rumors, she has grown desperate to deliver ratings which lead to Kelly to Monday's stunt. Critics say she was foolish to double-down on her attack against Trump and his supporters.
After the embattled NBC host interviewed three women that had previously accused the president of sexual harassment, users on social media loudly condemned the stunt —
Without a big ratings bump, Kelly is in serious trouble.
Insiders are concerned she'll be cancelled any day now, and her co-stars are increasingly upset that she's bringing their ratings down too.
Critics have savaged the show and called it unwatchable.
Is there any hope left for her?