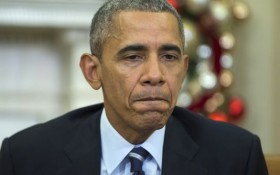 Horn News
It's no secret that former President Barack Obama hates President Donald Trump.
Since taking office, Trump has torn apart Obama's shaky legacy, leaving Obama "furious" and "livid." Trump has made Obama look bad by slashing regulations that destroyed the U.S. economy. And Trump has taken down multiple Deep State leakers that were undermining the effort to 'drain the swamp' of Obama loyalists.
Now, Obama just got the worst news of all.
It turns out that Trump is as popular as Obama was after one year, despite the mainstream media's full court attack.
The Horn News reported Thursday morning that Trump's approval rating had sky rocketed up in recent months.
Matt Drudge of The Drudge Report also reported an amazing find — one that will leave liberals and their media cronies stunned.
Rasmussen Poll shows Trump at 46% APPROVE this morning, with 53% DISAPPROVE…

What about Obama at same exact date… twitter.com/i/web/status/9…—
MATT DRUDGE (@DRUDGE) December 28, 2017
Ouch.
For someone as concerned about his legacy as Obama was, it must hurt seeing Trump's approval ratings rise… especially without the media's help.