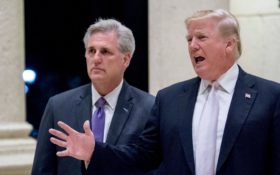 The mainstream media cannot give President Donald Trump a break — not even on his candy preference.
The Washington Post published an article on Monday attacking Trump for preferring pink and red Starbursts over other colors. They even ridiculed House Majority Leader Kevin McCarthy for gifting Trump with a jaw full of only pink and red Starbursts.
Just when you think the mainstream media can't get any worse… they attack the White House candy preferences.
Aboard Air Force One, Trump reached for a handful of the square shaped fruit chews, but McCarthy noticed he was selective in what colors he wanted to eat.
"We're there, having a little dessert, and he offers me some," McCarthy recalled in an interview. "Just the red and the pink. A bit later, a couple of his aides saw me with those colors and told me, 'Those are the president's favorites.' "
The liberal news site reports that a few days later, McCarthy bought a bag of Starbursts for the president and asked a staffer to sort through the pile only to pluck out the red and pinks.
Thoughtfully, McCarthy placed those selected candies into a jar marked with his name and delivered them to Trump.
So, who cares? No one… except the media talking heads. The saddest part of this whole story is that The Washington Post actually found it to be newsworthy.
In fact, it's not even that unusual of a preference. In fact, recently the company began selling all-pink bags to respond to consumer demand.
The Washington Post is not the only liberal news source reporting on Trump's eating habits, of course. The New York Times also found an issue with his Coca Cola consumption last year.
We're sure that those busy journalists working day and night to cover Trump's every move have tons of time to cook a healthy, plated meal every day.
Right…
Former Arkansas Governor Mike Huckabee was able to poke some fun at the liberal insanity.
He said, "Medical test results for @realDonaldTrump will be released today. If doc proclaims @POTUS in great shape, stock prices for McDonald's and KFC expected to soar and long lines expected to order Big Macs and buckets of chicken."
Honestly though, who — outside the mainstream media — actually cares?