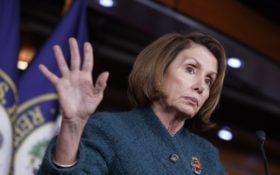 Horn News
House Minority Leader Nancy Pelosi has been the leader of the Democratic Party for years — but that's all coming to an end soon.
She's going to be fired, Rep. Bill Pascrell — a top Democratic lawmaker — says.
And it will happen by the end of the year.
Not even a big win for the Democrats in the 2018 mid-term elections can save her, Pascrell told The Atlantic.
There have been increasingly loud calls by liberal lawmakers to replace Pelosi's ineffective leadership since the 2016 election. But none have been as deafeningly harsh as this.
"While some of the Democrats who are critical of Pelosi have been consistently against her leadership, Pascrell's prediction is notable because he has been both for and against the California congresswoman over the years,"  The Washingon Free Beacon noted. "He also hails from a heavily Democratic district and therefore has no risk of blowback for supporting the unpopular leader."
What do you think?
Should Pelosi be fired, or should she stay as the Democrat's leader?