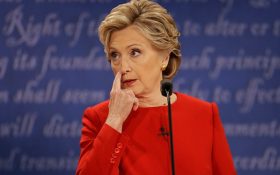 The clock is ticking for Hillary Clinton — and the beginning of the end could come in just in days.
In late 2017, responding to pressure from voters to "Lock Her Up," President Donald Trump pressured the Department of Justice to take another look at Hillary's illegal email servers.
Sponsored:
One week later, a new investigation into Hillary's alleged wrongdoings was started. It's findings will be released to the public on Jun. 11, 2018 at 2:00pm Eastern.
Sponsored:
It was a legal move largely ignored by the mainstream media, who are often too busy discussing the tone of the president's tweets to cover real news. The Horn News, however, reported on Jan. 4 that Hillary's legal problems had only just begun.
The new investigation is significant, critics say, because unlike the 2016 probe this one is safe from former FBI Director James Comey's alleged meddling.
And that's bad news for Hillary. Reports indicate that the Department of Justice's Inspector General's office is going to drop a hammer on many of her top political allies.
Sponsored:
"According to early descriptions the [Inspector General's] investigation will hold former FBI Director James Comey and former FBI Deputy Director Andrew McCabe accountable for mishandling a number of elements in the case. Key officials at the center of the findings — including DOJ Inspector General Michael Horowitz — will be called to testify in front of [Senate Judiciary Chairman Chuck Grassley's] committee, with the goal of getting questions about politically motivated bias at the FBI answered in an open forum," Townhall reported.
They continued: "House Republicans are planning to interview in June three FBI officials linked to the agency's handling of the Clinton email probe, which is part of an ongoing joint investigation by the House Judiciary and Oversight and Government Reform committees, according to Fox News."
What do you think about this latest development? Share your opinion