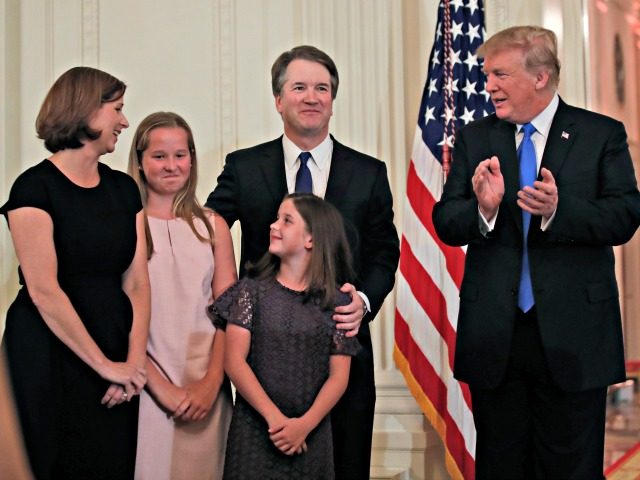 The Democrats' opposition to President Donald Trump's nomination of Judge Brent Kavanaugh announced on Monday was swift and extreme, with leftists claiming that his replacing Supreme Court Justice Anthony Kennedy would install white supremacy on the high court and criminalize abortion in the United States.
The opposition included Senate Minority Leader Chuck Schumer (D-NY), who took to Twitter immediately after Trump's announcement.
"I will oppose Judge Kavanaugh's nomination with everything I have, and I hope a bipartisan majority will do the same. The stakes are simply too high for anything less," Schumer tweeted after earlier tweets saying that any of the proposed nominees Trump had named would reverse Roe v. Wade and end Obamacare.
And mere moments after Trump made the announcement and Kavanaugh appeared with his wife and two daughters and spoke about his public service and commitment to equality for all Americans under the law, leftwing groups like the Action Center for Race and Economy were distributing i vile remarks about the nominee.
"Tonight 's announcement threatens to destroy decades of progress made by our nation's most vulnerable communities, and it locks in a white supremacist agenda from Capitol to the White House to the halls of our nation's highest courts," Executive Director Maurice BP-Weeks said in a statement.
"People of color, women and so many other folks pushed to the margins of America have already lost so much under this administration's racist, misogynist, anti-immigrant, corporations-first policies," BP-Weeks said. "Things will only get worse with Judge Brett Kavanaugh as Trump's nominee."
The Democrat party's official Twitter account sounded off:
"A vote for Brett Kavanaugh is a vote to overturn Roe v. Wade and gut the Affordable Care Act. RT if you oppose the criminalization of abortion and believe health care should be a right for all, not just a privilege for the few. #WhatsAtStake
Brian Fallon, a former aide to Attorney General Eric Holder under Obama, said the fight to defeat Kavanaugh's nomination was on.
"Just two days ago, McConnell was privately expressing concern about the Senate's ability to confirm Kavanaugh. He was right to be concerned. Trump picked him anyway. We can defeat this nomination. Time to fight," Fallon tweeted.
The radical Democracy for America also voiced alarm about Kavanaugh undoing President Barack Obama's legacy of abortion on demand and government-run healthcare on Twitter, calling Trump's nomination "an assault on justice" in chairman Jim Dean's statement:
"Donald Trump's decision to nominate a reactionary ideologue like Brett Kavanaugh and shift the balance of the U.S. Supreme Court even further right represents a generational assault on justice, freedom, and our country's core democratic values," Dean tweeted.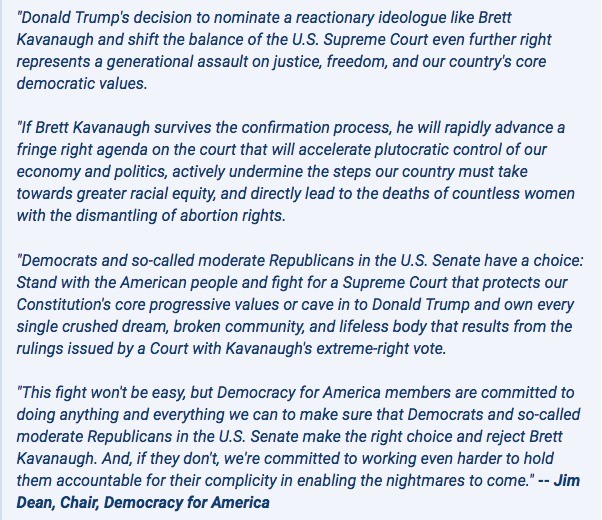 As Breitbart News reported:
Judge Kavanaugh, who once clerked for Justice Kennedy, the man Trump tapped him to replace, has sat on the D.C. Circuit, which plays a pivotal role in the litigation affecting the workings of the federal government, for more than 12 years. In that time, he racked up an impressive record of staunchly conservative, original meaning-driven interpretations of the U.S. Constitution and federal law.