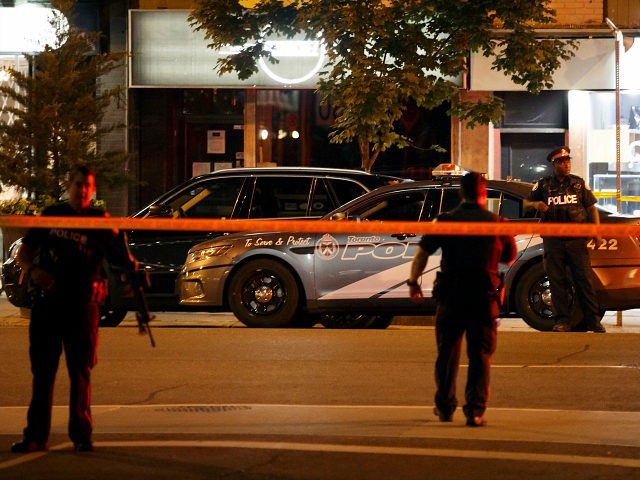 One person is dead and 13 others are wounded after a gunman opened fire in Germantown in Toronto, Canada, Sunday night, reports say.
The Sydney Morning Herald reports that the shooting occurred about 10 pm local time. The deceased is a woman, and one of the wounded is a nine-year-old girl.
Witnesses described hearing "up to 25 gun shots."
Toronto Police tweeted:
CBC News reports that Toronto Mayor John Tory said the shooting is "evidence of a gun problem" in the city. He said, "Guns are too readily available to too many people."
The University of Sydney's GunPolicy.org lists Canada's gun control as "restrictive." Those wishing to purchase a gun must first acquire a license for which they must undergo a background check. That check includes a consideration of "criminal, mental health, addiction and domestic violence records." It also requires a "third party character reference," and law enforcement interviews and/or advises the gun license applicant's "spouse, partner, or next of kin."
AWR Hawkins is an award-winning Second Amendment columnist for Breitbart News, the host of the Breitbart podcast Bullets with AWR Hawkins, and the writer/curator of Down Range with AWR Hawkins, a weekly newsletter focused on all things Second Amendment, also for Breitbart News. He is the political analyst for Armed American Radio. Follow him on Twitter: @AWRHawkins. Reach him directly at awrhawkins@breitbart.com. Sign up to get Down Range at breitbart.com/downrange.