Rumors about the letter's contents have flooded Capitol Hill over the last week, but Sen. Dianne Feinstein has declined to share its contents.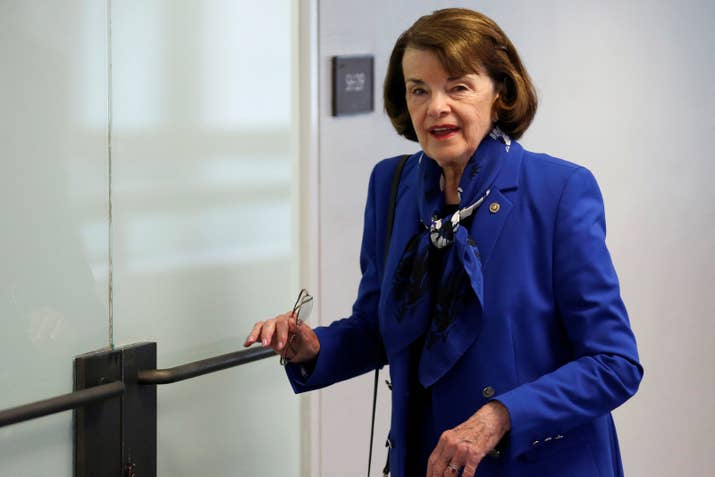 Source: Joshua Roberts / Reuters
Senate Democrats on the Judiciary Committee have referred a letter concerning Supreme Court nominee Brett Kavanaugh to the FBI.
The contents of the letter have been closely guarded by Sen. Dianne Feinstein, the ranking member on the Senate Judiciary Committee, as well as California Rep. Anna Eshoo, who originally received the letter and shared it with Feinstein, according to sources familiar with the matter. But whispers of what it contains have made the rounds across Capitol Hill over the past week.
The attention on it burst into the public when The Intercept published a report on the rumors surrounding the letter on Wednesday.
"This matter has been referred to the FBI for investigation," Sen. Dick Durbin told BuzzFeed News when asked about the letter on Thursday.
In a statement later Thursday, Feinstein confirmed that she had referred the letter to "federal investigative authorities."
"I have received information from an individual concerning the nomination of Brett Kavanaugh to the Supreme Court," Feinstein said. "That individual strongly requested confidentiality, declined to come forward or press the matter further, and I have honored that decision. I have, however, referred the matter to federal investigative authorities."
BuzzFeed News contacted the woman believed to be the subject of the letter at her home last week. She declined to comment. BuzzFeed News has not been able to confirm the contents of the letter.
The lawyer believed to be representing the woman was seen leaving Capitol Hill Wednesday evening shortly after the Intercept story dropped and just as Judiciary Committee Democrats were huddling in the Senate lobby. The lawyer, Debra Katz, has not confirmed that she is representing the woman. She also declined to comment Wednesday, saying "there's nothing to say."
When asked about the letter and the rumors surrounding its contents last week, Eshoo's office said in a statement to BuzzFeed News, "Our office does not discuss casework." They declined to comment further.
The chair of the committee, Republican Sen. Chuck Grassley, said Thursday he did not have the letter and had no information about it beyond what he had read in the media.
The FBI did not immediately respond to a request for comment. A White House spokesperson also did not immediately respond.
Sens. Amy Klobuchar, Chris Coons, and Richard Blumenthal — all Democrats on the Judiciary Committee — declined to comment Thursday.