Hollywood elitist Chris Evans suggested Kanye uneducated, doesn't read books/know history
Hollywood elitist Chris Evans essentially labeled Kanye West a "dumb n***r" over a pro-Trump tweet, conservative firebrand Candace Owens claimed Monday.
Responding to a tweet in which West wore President Trump's trademark Make America Great Again hat, Evans – who portrays Captain America in Marvel films – expressed Kanye came off as uneducated and "myopic" after he dared to stray from the Democrat plantation.
"There's nothing more maddening than debating someone who doesn't know history, doesn't read books, and frames their myopia as virtue," Evans wrote on Twitter. "The level of unapologetic conjecture I've encountered lately isn't just frustrating, it's retrogressive, unprecedented and absolutely terrifying."
Evans' condescending attitude towards Kanye did not go unanswered.
"[Evans] really just referred to Kanye as the N-word," Candace Owens claimed on Periscope, explaining the n-word was used in colonial times to refer to ignorant black slaves.
https://www.pscp.tv/w/1ZkKzNbyXygKv
"He basically said Kanye is a stupid black man who knows nothing. He didn't counter Kanye's argument. He didn't say anything about the economy. He didn't say anything about an argument against bringing the job backs home. He just basically said that this is a black man and because he is wearing this hat I now have the audacity to refer to him as an ignorant black man."
Owens went on to challenge Evans to debate her at the upcoming Politicon, taking place October 20-21 in Los Angeles.
Over the weekend, West appeared on Saturday Night Live where he gave an impassioned pro-Trump sermon in front of the show's liberal-leaning audience and cast members. The rant was not aired on the show, but was leaked by former cast member Chris Rock, who attended the show's season premiere.
Kanye, who now prefers the title "Ye," followed up his appearance with a tweet Sunday in which he wore President Trump's trademark Make America Great Again hat and touted the 45th US president's accomplishments.
"This represents good and America becoming whole again. We will no longer outsource to other countries. We build factories here in America and create jobs.  We will provide jobs for all who are free from prisons as we abolish the 13th amendment. Message sent with love," West wrote on Twitter.
Evans wasn't the only limousine liberal who attacked West. Pop singer Lana Del Ray, drummer Questlove and others also fought back against Kanye's pro-Trump stance.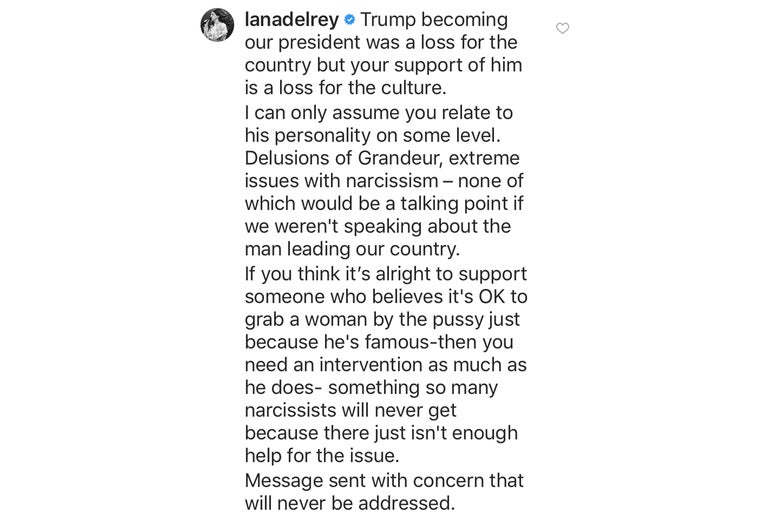 "If you think it's alright to support someone who believes it's OK to grab a woman by the pussy just because he's famous-then you need an intervention as much as he does," Del Ray wrote on Instagram, adding that she was "concerned" for West.