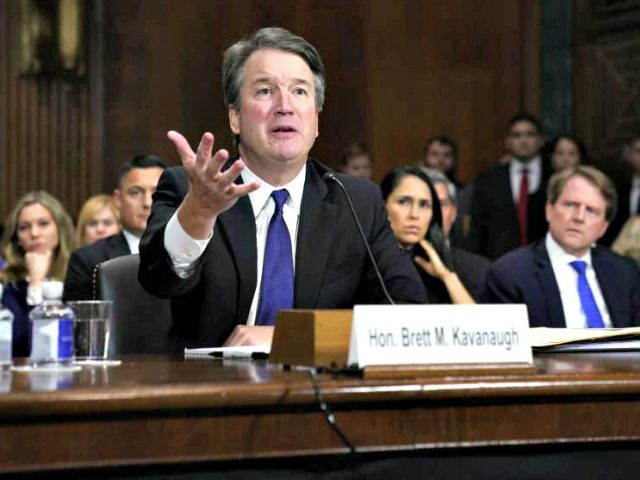 The National Republican Congressional Committee (NRCC) fundraising has skyrocketed during Supreme Court Justice nominee Judge Brett Kavanaugh's confirmation process, according to a Tuesday Politico report.
According to a Politico report, on September 29, two days after Kavanaugh's latest hearing, and one day after Sen. Jeff Flake (R-AZ) convinced fellow Republicans to back an FBI investigation of Kavanaugh, the NRCC's fundraising skyrocketed.
On September 29, the NRCC sent out a text, requesting donations, which read, "Hi, it's URGENT! We need 324 more conservatives to show their support for Trump & his majority before TONIGHT. Will you take a stand?"
In response to the text, the number of donations the NRCC received increased by 175 percent, the amount of money raised grew by 194 percent, the average gift grew by 111 percent, and the average raised off of the text grew by 226 percent.
The Politico article follows separate reports from Republican strategists who contended that the Kavanaugh confirmation process has dropped a "grenade into the electorate," energizing the Republican base.
An NBC/Wall Street Journal poll found that Republicans have nearly matched Democrat interest in the midterm election.
Glen Bolger, a GOP pollster, tweeted on Friday, "Seeing a significant jump in GOP voter interest in the elections this week. The Dem intensity advantage is melting away. Two things: 1. I figure it has to be Kavanaugh effect. 2. Remains to be seen if it lasts. GOP campaigns should not assume their turnout concerns are done":
Several polls from red states such as North Dakota, West Virginia, and Missouri revealed that they want Kavanaugh confirmed to the nation's highest court. In one poll from the Judicial Crisis Network (JCN), 56 percent of North Dakotans want Kavanaugh confirmed, while only 26 oppose his confirmation. Fifty-eight percent of West Virginians want Kavanaugh confirmed to the Supreme Court, compared to 28 percent who do not want the Senate to confirm Kavanaugh.
Breitbart News reported that these polls suggest that if Sens. Joe Manchin (D-WV) and Heidi Heitkamp (D-ND) were to vote against Kavanaugh, they could see a significant electoral backlash.
A similar phenomenon was noted in a Remington Research Group survey which found that 49 percent of voters said that they are less likely to vote for Sen. Claire McCaskill (D-MO) now that she signaled that she will vote against Kavanaugh for the Supreme Court.