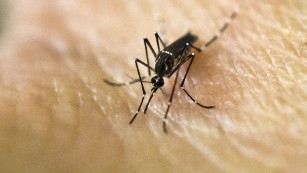 A rise in typhus, a bacterial disease spread by lice or fleas, has hit the Los Angeles area, and public health officials are sounding the alarm.
As of Monday, there have been 57 cases of flea-borne typhus in Los Angeles County, the county Department of Public Health said.
On Thursday, the department announced that officials are investigating an
outbreak of flea-borne typhus
in downtown Los Angeles, and they are working with the city to implement environmental safety measures to help reduce the spread of the disease.
Between July and September, the county identified nine cases of flea-borne typhus associated with downtown Los Angeles, and six of those cases were in people experiencing homelessness,
according to the county
.
"Typhus fever is a disease that can cause serious complications requiring lengthy hospitalization, and rarely, death," Dr. Ying-Ying Goh, Pasadena's health officer, said in
the city's Friday announcement
.
She encouraged all residents to take precautions to prevent fleas in and around their homes.
Such precautions include keeping yards free of debris and trimming overgrown vegetation, not leaving pet food outdoors, not providing food or water for wild animals, keeping garbage containers tightly covered, sealing crawlspaces under the home and routinely treating pets with flea control medication.
"Since the disease is spread by fleas, it is possible that endemic typhus could be transmitted year-round. Right now, it's hard to speculate on why we are seeing more cases. There is an ongoing investigation by the Los Angeles County Department of Public Health that seeks to answer this question," said Anne Rimoin, an associate professor of epidemiology at th
As to whether the typhus outbreak could spread any farther, she said, "a thorough public health investigation will provide clues as to whether or not we should expect a rise in cases elsewhere."
"Flea-borne typhus is naturally occurring in Los Angeles County and is caused by two bacteria, Rickettsia typhi and R. felis," Rimoin said. "There are several things that people can do to prevent flea-borne typhus fever. The most important preventive measure is to minimize exposure to fleas. Pets, yards and homes should be kept free of fleas."
Fatalities are uncommon, occurring in less than 1% of cases, and the disease can be treated with antibiotics, according to the county.
"Although typhus normally occurs throughout LA County, we are observing several cases in the downtown Los Angeles area," Dr. Muntu Davis, the county's health officer, said in
Thursday's announcement
.
"We encourage pet owners to practice safe flea control and encourage all cities in the county to ensure maintenance of their trash clean-up and rodent control activities," he said.
On Friday, one city in the county — Pasadena — reported epidemic levels of typhus fever. This year, 20 Pasadena residents have been confirmed to have typhus fever, up from the expected one to five cases per year, according to the
Pasadena Public Health Department
.