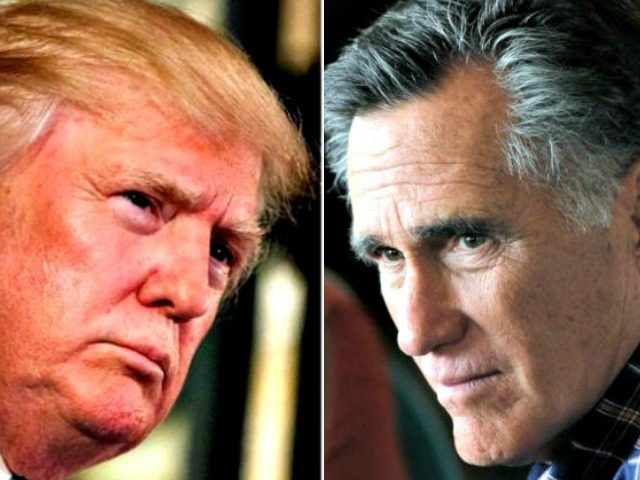 Failed presidential candidate Mitt Romney wrote in a blog post this week that President Donald Trump's vilification of the media is unprecedented, stating he vehemently disagrees with labeling the press "the enemy of the people."
The critical post — titled, 'As I See It: The Free Press, a Pillar of Democracy' — was published as Romney stumps for fellow Republican candidates and sails toward a likely victory Tuesday in the race for a U.S. Senate seat in Utah.
On Thursday, he took issue with Trump's characterization of the media as an "enemy of the people," saying that a free press is essential to the "cause of freedom."
The President tweeted this week, "There is great anger in our Country caused in part by inaccurate, and even fraudulent, reporting of the news. The Fake News Media, the true Enemy of the People…" He was referring to "CNN and others in the Fake News business," not foreign provocateurs.

Surely every president has endured stories that he knew were inaccurate and has chaffed at one or more news publications. George Washington was routinely brutalized by a newspaper that had been anonymously funded and founded by his own Secretary of State, Thomas Jefferson. But no American president has ever before vilified the American press or one of its professional outlets as an "Enemy of the People."

Attacking the media or publications that lean in a different direction than the Republican Party is decidedly good politics. We conservatives have long suffered from the left-leaning attitudes and reporting of the media. But today, if we don't like one outlet, there are others from which we can—and do—choose. And, more importantly, denigrating the media diminishes an institution that is critical to democracy, both here and abroad. As a political tactic, it may be brilliant, but it comes with a large cost to the cause of freedom.
While he has largely avoided direct criticism of President Donald Trump since a scathing speech he gave in 2016, though Romney has said he would speak out on significant issues. Last week, Romney reacted to a string of crude bomb sent to prominent Democrats and progressive mega-donors claiming, without evidence, that the suspected sender, Cesar Sayoc, was motivated   by "hate speech."
"Disgusting, vile threats and actions against fellow Americans and our institutions are sadly unsurprising: hate acts follow hate speech," Romney tweeted. "It is past time for us to turn down and tune out the rabid rhetoric."
The online essay was published in the final days before an election while Romney is knocking on doors and joining phone banks for local, state, and congressional races in his adopted home state.
Romney ia vying for the Senate seat to replace Orrin Hatch, who is retiring from the Senate after four decades. Romney appears to be a shoo-in for the seat in the conservative state that hasn't sent a Democrat to the Senate since 1977.
The Associated Press contributed to this report.