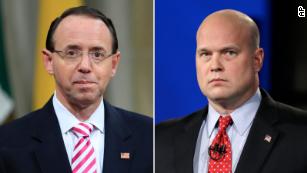 Washington As he was preparing to remove Jeff Sessions as attorney general, President Donald Trump had already begun reviewing with his lawyers the written answers to questions from special counsel Robert Mueller.
The move to replace Sessions with Matt Whitaker, who has been openly critical of the special counsel, comes as the White House braces for a return of public activity on the Russia investigation following a pre-election quiet period, according to people briefed on the matter.
As acting attorney general, Whitaker also now takes over Deputy Attorney General Rod Rosenstein's role in overseeing the special counsel probe, which officials inside the Justice Department and lawyers representing witnesses believe is moving closer to a conclusion.
Mueller's team has begun writing its final report, multiple sources told CNN.
Before that happens, one of the major questions in the Russia investigation remains to be answered: What happens to Roger Stone, a longtime Trump adviser who has been at the center of a whirlwind of legal activity behind the scenes even during the election-related public quiet period by Mueller.
As recently as a month ago, Mueller asked Trump's lawyers to produce call and visitor logs related to Stone from Trump Tower in New York, according to a source briefed on the matter. The request at this late stage of the investigation came as something of a surprise to lawyers involved, given that the Mueller team has been focused for months on Stone and his activities before the 2016 election.
Among the questions Mueller has asked the President to provide written responses on are queries about Stone and his communications with then-candidate Trump, according to a source briefed on the matter.
Despite the change in leadership at the Justice Department, the Trump legal team believes it won't affect its approach to the Mueller questions, according to one source familiar with the matter.
The President and his lawyers have been aiming to return answers to Mueller's questions later this month, according to one source familiar with the matter. No final decision on an in-person interview has been made.
But Trump's legal team and other lawyers representing witnesses in the investigation expect that the President's responses to Mueller could be one of the final pieces of the 18-month-long probe before the investigators present a report on their findings.
Trump made clear once again in a news conference Wednesday he believes the investigation is a waste of time and money.
"It's a disgrace, it should have never been started because there was no crime," Trump said.
Even after Mueller completes his work, Tuesday's midterm election results mean that House Democrats will also be in a position to expand investigations of Trump. That means Mueller will not be the end of Russia-related questions of Trump and his campaign.