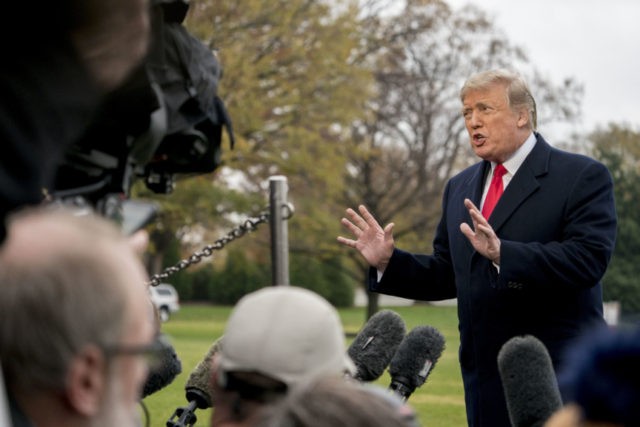 President Donald Trump left for the G20 summit Thursday and meetings including President Xi Jinping of China as he debated whether or not to do a trade deal with China or keep tariffs.
"I think we're very close to doing something with China, but I don't know that I want to do it," Trump told reporters before boarding Marine One on the White House South Lawn. "what we have right now is billions and billions of dollars coming into the United States in the form of tariffs or taxes. So I really don't know."
"I will tell you that I think China wants to make a deal. I'm open to making a deal. But frankly I like the deal that we have right now," said the president.
Earlier in the day the president pointed to billions of dollars coming to the U.S. due to tariffs on Chinese goods:
"Billions of Dollars are pouring into the coffers of the U.S.A. because of the Tariffs being charged to China, and there is a long way to go," said Trump. "If companies don't want to pay Tariffs, build in the U.S.A. Otherwise, lets just make our Country richer than ever before!"
U.S.-China trade talks led by Treasury Secretary Steven Mnuchin have been on-again, off-again several times, but Trump is slated to talk trade with Xi himself at the Argentina G20.
President Trump has imposed wave upon wave of U.S. tariffs on Chinese goods and China has retaliated with targeted tariffs of its own on U.S. goods. China has aimed tariffs at industries perceived to extract the greatest impact on industries that tend to favor Trump.
This week Trump posed the possibility of raising tariffs on China's auto imports to the U.S. He has issued tariffs of $200 billion in Chinese goods with another $300 billion in abeyance. Trump has warned the 10 percent tariff on the $200 billion in goods could also raise to a 25 percent tariff.
National Economic Council director Larry Kudlow previewed the Trump-Xi talks this week. The talks will include Trump trade advisors with the two presidents. Kudlow carefully expressed optimism that there is a deal to be done between the two trading giants, but tempered the optimism with a warning that if China refuses to meet basic requirements that the U.S. has repeatedly set forth then President Trump will happily stand on the U.S. current approach toward China of imposing tariffs. He told reporters Tuesday, "If things don't work out in this U.S.-China summit meeting, [President Trump] will invoke another 267 some-odd billion dollars in tariffs." Trump and his trade team have made clear to China the U.S. will not relent on tariffs until China halts unfair trading practices including intellectual property theft, a massive trade deficit between the two nations.