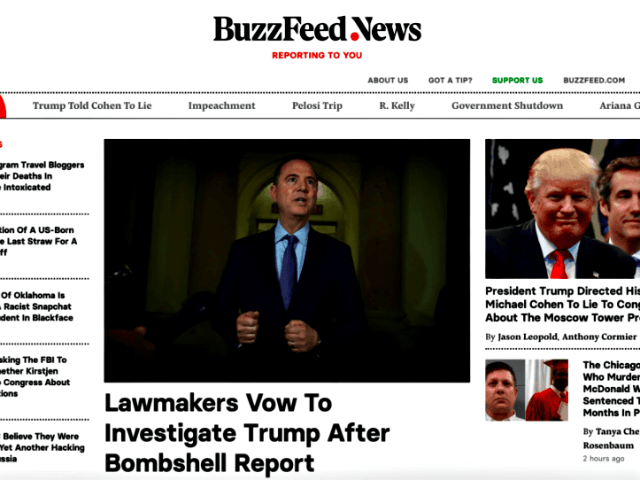 Buzzfeednews.com on Friday evening led with a report on Democrat lawmakers pledging to investigate President Donald Trump over its report claiming the president directed Michael Cohen, his former personal attorney, to make false statements to Congress — hours after the office of special counsel Robert Mueller denied the story's veracity, describing it as "not accurate."
BuzzFeed stated that Cohen told Mueller that President Trump personally instructed him to lie about the timing of the project in order to obscure Trump's involvement. No other news organization was able to confirm the report nearly 24 hours after its publication.
Further, BuzzFeed said Mueller's investigators learned about President Trump's directive "through interviews with multiple witnesses from the Trump Organization and internal company emails, text messages, and a cache of other documents."
The report also claimed Cohen then acknowledged President Trump's instructions when he was interviewed by the Mueller team.
Further, Loop's report includes similar reactions to the now-debunked allegations, including Rep. Joaquin Castro (D-TX), a fellow House Intelligence Committee member, who demanded the president resign or face impeachment if the report is accurate
"If the @BuzzFeed story is true, President Trump must resign or be impeached," he tweeted.
As of 10:19 p.m. EST, Buzzfeed finally switched its story for a report on a deadly pipeline explosion in Tlahuelilpan, Mexico.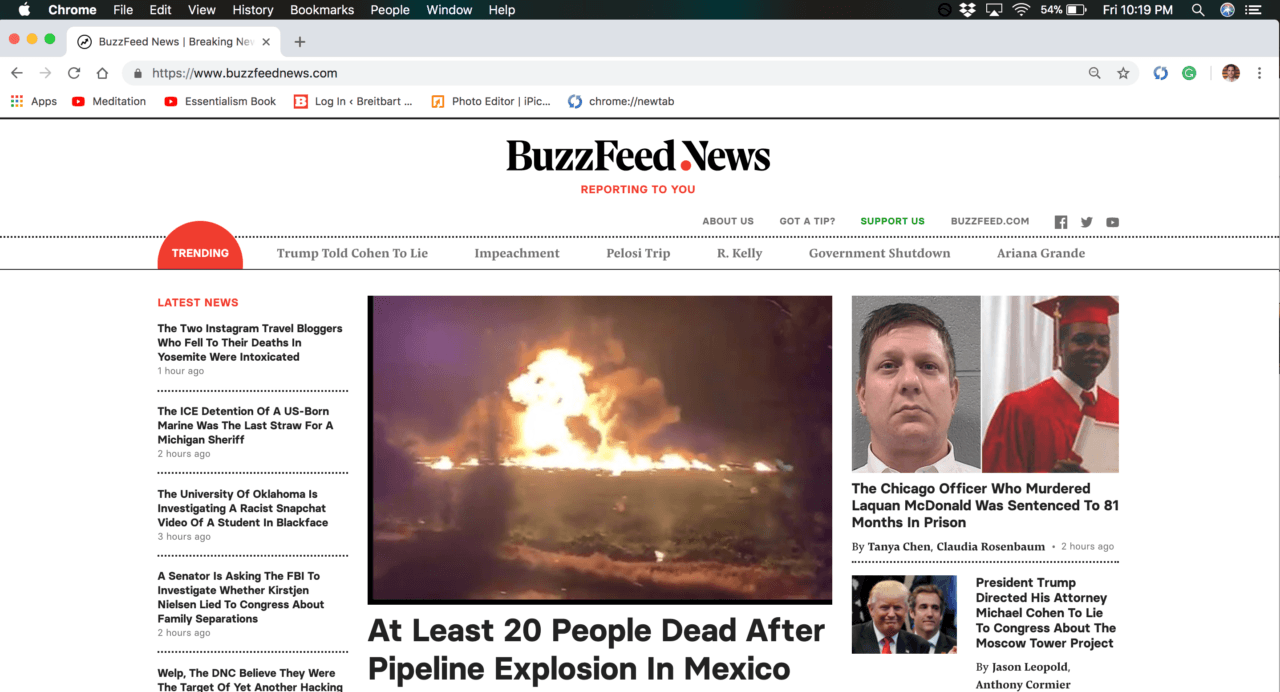 (Screenshot/Joshua Caplan/Breitbart News)
"We are continuing to report and determine what the special counsel is disputing. We remain confident in the accuracy of our report," BuzzFeed said in response to the special counsel's statement.
Earlier Friday, Trump lawyer Rudy Giuliani said, "any suggestion — from any source — that the President counseled Michael Cohen to lie is categorically false." In addition, White House press secretary Sarah Huckabee Sanders called the allegation "absolutely ridiculous."
Giuliani noted that Cohen had pleaded guilty to lying and quoted federal prosecutors in New York who chastised him for a "pattern of lies and dishonesty over an extended period of time." Mueller's team, however, has called him a credible witness.
"Today's claims are just more made-up lies born of Michael Cohen's malice and desperation," Giuliani said in a statement.
In November, Cohen said in his guilty plea that he made false statements to lawmakers about the Moscow real estate deal he pursued on President Trump's behalf during the heat of the 2016 Republican campaign. The attorney claimed he lied to be consistent with President Trump's "political messaging."
On December 12, Cohen was sentenced to three years in jail after pleading guilty to several charges, including campaign finance violations and making false statements to Congress.
After the plea, President Trump called Cohen a "weak person" who was lying to get a lighter sentence and stressed that the real estate deal at issue was never a secret and never executed. Giuliani said that the longtime Trump lawyer was a "proven liar" and that the president's former company had voluntarily handed over documents to the special counsel cited in the plea "because there was nothing to hide."
"There would be nothing wrong if I did do it," President Trump said of the proposed real estate deal. "I was running my business while I was campaigning. There was a good chance that I wouldn't have won, in which case I would have gone back into the business, and why should I lose lots of opportunities?"
Cohen is expected to testify before the House Oversight Committee on February 7.
The Associated Press contributed to this report.