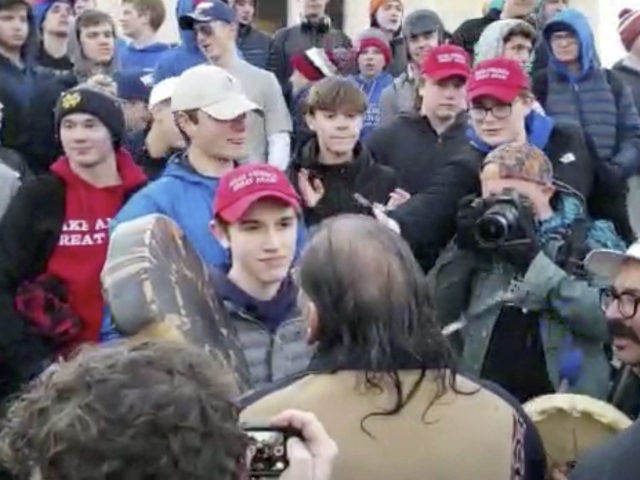 But when innocent conservative high school kids are flooded with violent threats, targeted harassment and doxing on the basis of media-promoted misinformation, Jack Dorsey and his staff seem to do nothing — it even briefly promoted the smears.
Over the past 48 hours, an angry mob of Twitter users — many of them with blue checkmarks next to their name, signaling endorsement of their messages by the company — have flooded the platform with disgusting abuse, violent threats, and calls to harass innocent students of the Covington Catholic High School in Kentucky.
The wave of attacks was sparked by fake news — a claim, based on a clipped video and repeated by the mainstream media, that the high school students "taunted" and "harassed" a Native-American activist near the Lincoln Memorial in Washington, D.C. Longer versions of the same video showed that it was the activist, and a nearby group of black supremacist activists, who harassed the students. The latter group even hurled racial abuse at the students.
Most of the tweets remain on the platform, which has yet to ask the authors to take them down — much less deverify or ban them, something Twitter has done to conservative activists for far less.
Here are some of the threats and targeted harassment that the platform has enabled to go viral, and still remain on the platform as of this writing on the early afternoon of Monday, January 21:
I would put $1000 into a gofundme for someone to punch him right in the fucking mouth.

— David Dellanave (@ddn) January 19, 2019
LOCK THE KIDS IN THE SCHOOL AND BURN THAT BITCH TO THE GROUND.

— Uncle Shoes (@HouseShoes) January 19, 2019
Honest question. Have you ever seen a more punchable face than this kid's? https://t.co/jolQ7BZQPD—
Reza Aslan (@rezaaslan) January 20, 2019
I know he's like a teen or whatever but I still wanna hit him. Like super hard. Right in that bish ass lookin face. Ya know? https://t.co/sOMjeYVQPy

— TATIANNA (@TATIANNANOW) January 20, 2019
If I were in a room with the MAGA Kid, Hitler, and Toby and had three bullets, I'd shoot the MAGA Kid three times

— Chad Chamberlain (@ChadChum15) January 20, 2019
I hope all these MAGA kids in the news get cancer and the horrible parents that raised them this way get to suffer alongside them

— 🏴 Jez 🌻 Watson🌹 (@jezawatson) January 20, 2019
Smug guy is NICHOLAS SANDMANN
Covington Catholic High School
Principal Robert Rowe browe@covcath.org
859.491.2247
Diocese of Covington
859.392.1500
info@covdio.org
Diocesan Board of Catholic Education Superintendent, Michael Clines: 859.392.1500
mclines@covdio.org pic.twitter.com/WVeWHd1EBO

— Vic Gerami (@thebluntpost) January 20, 2019
Racist Americans At their Worst

Students from Covington Catholic High School in Kentucky, show up at indigenous march to mock and attempt to humiliate Native American people on the national mall.

You can contact the Catholic school at 859-491-2247 pic.twitter.com/Yunc8tLZmm

— Flowers By Him (@HimFlowers) January 20, 2019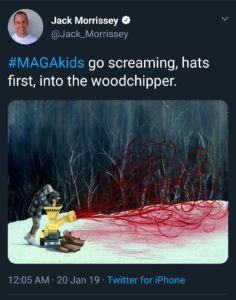 Jack Morrissey, a movie producer who has worked on various major titles including Disney's 2017 live-action adaptation of Beauty and the Beast, subsequently made his account private. It is unknown if he has deleted the tweet.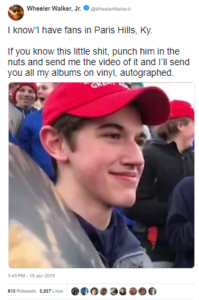 Wheeler Walker Jr., a small-time country musician, subsequently deleted the above tweet. Jack Dorsey's platform does not appear to have taken any action against his account.
What was the crime of the high school students currently the target of these savage threats? According to multiple verified leftists on Twitter, it's … smiling while white:
In response to Breitbart News' inquiries, a spokeswoman for the company acknowledged that the platform initially got their official "moment" — which falsely accused the high school kids of "mocking" the native american activist — wrong.
"Twitter Curation strives to fairly and accurately contextualize the nature of large conversations on the platform," said the spokeswoman. "The original Covington video appeared on Friday night. However, the Curation team did not compile a Moment until additional news media reporting emerged to provide context to the video — this included a source video interview with Nathan Phillips, which was featured in the Moment."
"As soon as additional information emerged on Sunday night, including a full video and statement from the Covington high schoolers, we updated the Moment to reflect and focus on the new context."
Despite Twitter's claim of taking action on the moment, the fake news version was still trending on moments as late as  11:53 p.m. on Sunday.
The social media network's new Moment, which emphasizes the Covington student's explanation of the incident, can be viewed here.