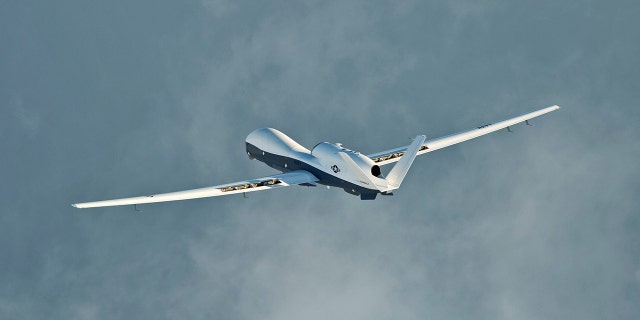 Source: Lucas Tomlinson, Edmund DeMarche, Travis Fedschun |
A U.S. Navy high-altitude drone was shot down Thursday by an Iranian surface-to-air missile over the Strait of Hormuz amid heightened tensions in the region after last week's attacks on two oil tankers, according to military officials.
U.S. Central Command said in a statement the that a U.S. Navy Broad Area Maritime Surveillance ISR aircraft, known as a BAMS-D, was shot down by an Iranian surface-to-air missile system while operating in international airspace over the Strait of Hormuz at approximately 7:35 p.m. ET on Wednesday.
"Iranian reports that the aircraft was over Iran are false," Capt. Bill Urban, a U.S. Central Command spokesman, said in a statement. "This was an unprovoked attack on a U.S. surveillance asset in international airspace."
The U.S. Navy's RQ-4A Global Hawk drone was over international airspace and about 17 miles from Iran at the time, a military source told Fox News.  The drone provides real-time intelligence, surveillance, and reconnaissance missions  "over vast ocean and coastal regions," according to the military.
Iran also tried to shoot down another drone, but missed, U.S. officials told Fox News. Officials are now scrambling to find the wreckage in the water before Iranian forces do.
The Navy RQ-4A Global Hawk drone deployed to the Middle East in the past few days as part of reinforcements approved by President Trump last month.
The high-altitude drone can fly up to 60,000 feet or 11 miles in altitude and loiter for 30 hours at a time. It's used to spy on Iranian military communications and track shipping in the busy waterways. Each drone costs up to $180 million dollars.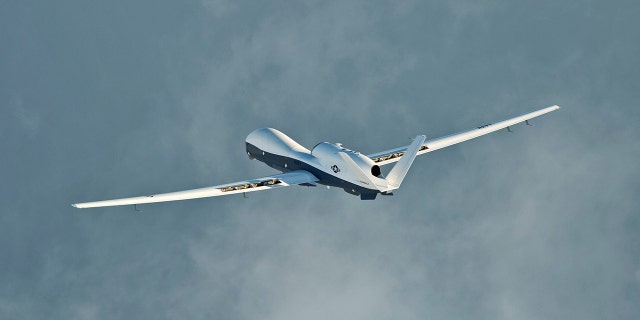 Besides the drone incident, U.S. officials told Fox News that Iranian-backed forces fired cruise missiles Wednesday night into Saudi Arabia hitting a power plant. The attacks come against the backdrop of heightened tensions between the U.S. and Iran following President Donald Trump's decision to withdraw from Tehran's nuclear deal a year ago.
A commander for Iran's Revolutionary Guard claimed the drone was shot down over Iranian airspace which sends a "clear message" to the U.S., and marked the first direct Iranian-claimed attack amid the crisis.
"We do not have any intention for war with any country, but we are fully ready for war," Revolutionary Guard commander Gen. Hossein Salami said in a televised address.
Iran's paramilitary Revolutionary Guard, which answers only to Supreme Leader Ayatollah Ali Khamenei, said it shot down the drone on Thursday morning when it entered Iranian airspace near the Kouhmobarak district in southern Iran's Hormozgan province. Kouhmobarak is some 750 miles southeast of Tehran and close to the Strait of Hormuz.
CAL THOMAS: IS WAR WITH IRAN INEVITABLE?
The Guard said it shot down the drone at 4:05 a.m. after it collected data from Iranian territory, including the southern port of Chahbahar near Iran's border with Pakistan. Iran used its air defense system known as Third of Khordad to shoot down the drone — a truck-based missile system that can fire up to 18 miles into the sky, the semi-official Fars news agency reported.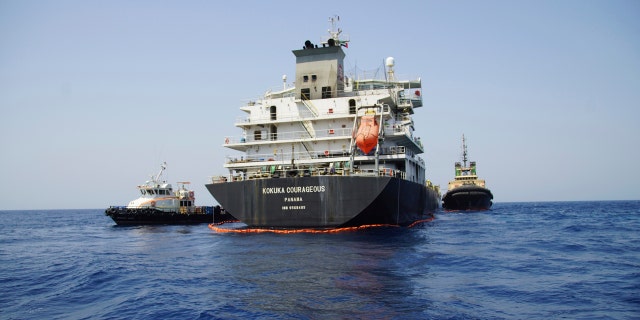 The Guard described the drone as being launched from the southern Persian Gulf but did not elaborate. American RQ-4A Global Hawks are stationed at the Al-Dhafra Air Base in the United Arab Emirates, near the capital, Abu Dhabi.
Salami, speaking to a crowd in the western city of Sanandaj, described the American drone as "violating our national security border."
"Borders are our red line," Salami said. "Any enemy that violates the borders will be annihilated."
CLICK HERE TO GET THE FOX NEWS APP
The U.S. said Iran fired a missile at another drone last week that responded to the attack on two oil tankers near the Gulf.
Another senior U.S. official told Fox News last week that an MQ9 Reaper drone was fired on by the Iranians shortly after it arrived at the scene where the MV Altair tanker sent out a distress signal.
Secretary of State Mike Pompeo has blamed Iran for the "blatant assault" on oil tankers in the Gulf of Oman.
After the tanker incident, Pompeo said his assessment was based on "intelligence, the weapons used, the level of expertise needed to execute the operation, recent similar Iranian attacks on shipping, and the fact that no proxy group operating in the area has the resources and proficiency to act with such a high degree of sophistication."