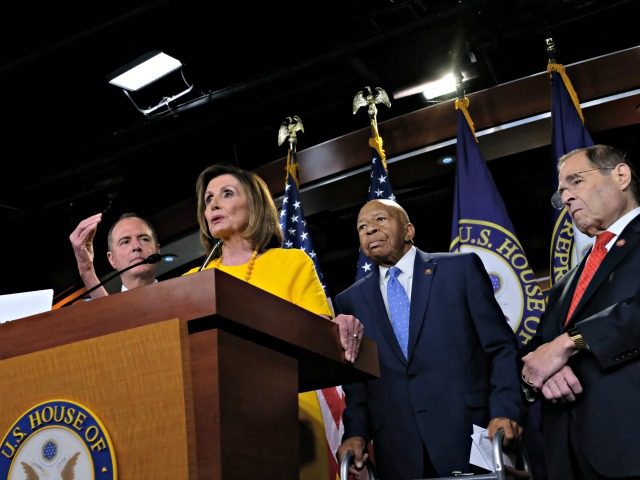 Source: Matthew Boyle
Democrats are reeling after a horrendous day for their party on Capitol Hill with former Special Counsel Robert Mueller's testimony unraveling their case against President Donald Trump, all while Republicans seek to capitalize on the serious missteps by a group of committee leaders and Democrat leadership in the House.
The bad day for the Democrats was shown in no better way than that Speaker Nancy Pelosi was a whopping 48 minutes late to a planned 5:00 p.m. press conference after Mueller's testimony, where she was flanked by the chairmen of the two committees before which Mueller testified and a third who has helped the investigation.
During the press conference, a babbling Pelosi struggled to explain for more than 20 minutes what the public learned from Mueller's oftentimes incoherent testimony–all while she, House Intelligence Committee chairman Rep. Adam Schiff (D-CA), House Judiciary Committee chairman Rep. Jerry Nadler (D-NY), and House oversight committee chairman Rep. Elijah Cummings (D-MD), attempted to explain away the path forward for Democrat leadership, which is again rebuffing calls for a formal impeachment inquiry of the president after Mueller's dud of a hearing on Wednesday.
One high-ranking senior Democrat congressional aide referred Breitbart News to leftist filmmaker Michael Moore's tweets bashing Mueller–where he noted that he has been critical of Mueller from the beginning: