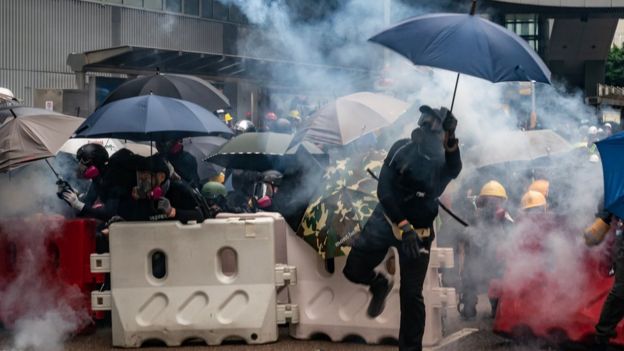 Source:
Hong Kong riot police have used tear gas, rubber bullets and water cannon to disperse crowds as tens of thousands marched in the city, defying a ban.
Officers also fired live warning shots as they tried to clear the streets.
Protesters lit fires, threw petrol bombs and attacked the parliament building. A number of people were later held as they fled into metro stations.
Saturday's event to mark five years since China ruled out fully democratic elections was banned in Hong Kong.
On Friday, several key pro-democracy activists and lawmakers in China's special administrative region were arrested.
The protest movement grew out of rallies against a controversial extradition bill – now suspended – which would have allowed criminal suspects to be sent to mainland China for trial.
It has since become a broader pro-democracy movement in which clashes have grown more violent.