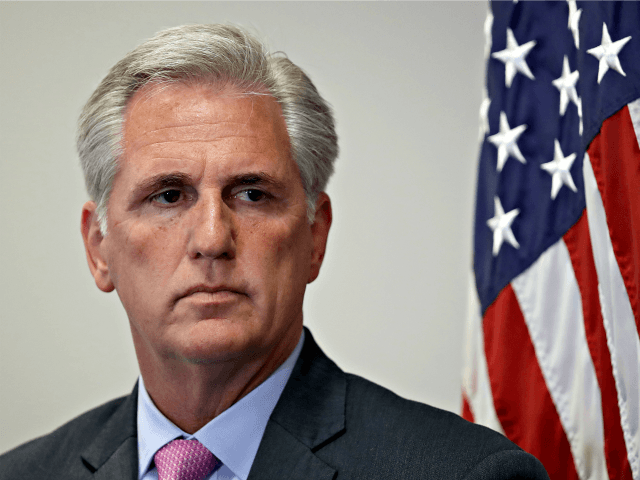 Source:
Matthew Boyle
House GOP leader Kevin McCarthy said House Speaker Nancy Pelosi should formally sideline House Permanent Select Committee on Intelligence (HPSCI) chairman Rep. Adam Schiff (D-CA) from the Democrats' "impeachment inquiry" of President Donald Trump.
McCarthy explained Schiff should now be considered a "fact witness" in the broader investigation of these matters given his and his staff's role in coordinating with the whistleblower over the summer.
McCarthy said the pair of major revelations this week—first that Schiff's staff met with the whistleblower before he or she reported concerns to the Intelligence Community Inspector General (ICIG), and second that the whistleblower concealed the Schiff staff meeting from the ICIG, as the ICIG testified this week—undercut Schiff's ability to move forward with the investigation. As such, McCarthy said, Schiff and his staff should now be considered "fact witnesses" in the investigation—and Pelosi should formally sideline him, removing him from his chairmanship and having him recuse himself from an investigation it would be impossible for him to honestly oversee.
"Something very, very interesting came out yesterday and they control what happens—they'll leak just a couple texts instead of the full transcript," McCarthy said in an exclusive interview on Breitbart News Saturday on SiriusXM 125 the Patriot Channel this weekend.
"If the whole transcript was out there, you'd ask why go on with this investigation? Yesterday, we had the ICIG, which is the Intelligence Community Inspector General Michael Atkinson, in for a hearing. What we found out was he testified that the whistleblower never told him that he had already met with Schiff's staff. Two things happen from that: It already goes to the political bias of the whistleblower. The whistleblower filling out the forms, there was a point there to put that in and [he] skipped it—did not want them to know, Schiff's staff, that he had met with them yet. Nobody knows what was said with Schiff's staff. Nobody knows if he met with Schiff, what they talked about, no one knows how many times they met. No one knows any about this except Schiff and his staff. Now, having done that, they are what is called 'fact witnesses.' When you are a fact witness, you cannot be a head of an investigation and be a prosecutor. No one in our judicial system would ever allow that. Why? Because Schiff and his staff should now be called in as witnesses. We need to cross-examine them. What did they talk about? What did you tell them? You can't be in charge of the investigation too. This is such a hoax, every element of it, it goes against every basic fairness," said McCarthy.