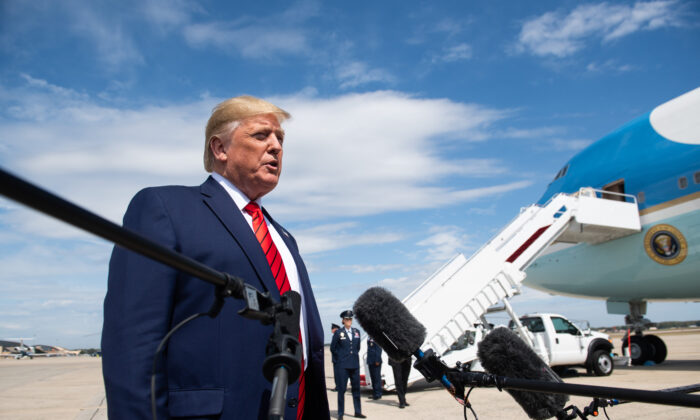 Source: Zachary Stieber
The person who filed a complaint against President Donald Trump had a tie to a current Democratic presidential candidate, according to reports.
Michael Atkinson, the inspector general of the intelligence community, told lawmakers in a closed session last week that the whistleblower had a working relationship with one of the people running to get the nomination to oppose Trump in 2020, three sources told the Washington Examiner.
"The IG said [the whistleblower] worked or had some type of professional relationship with one of the Democratic candidates," said one source with knowledge of what was said.
"The IG said the whistleblower had a professional relationship with one of the 2020 candidates," another source added.
"What [Atkinson] said was that the whistleblower self-disclosed that he was a registered Democrat and that he had a prior working relationship with a current 2020 Democratic presidential candidate," added a third person with knowledge of what Atkinson said.
The sources weren't identified. The whistleblower has not been identified.
Axios also reported that Atkinson told lawmakers that the whistleblower had a working relationship with a Democratic presidential candidate, citing a source.
Atkinson didn't say which Democratic candidate the whistleblower was linked to nor did he detail the working relationship. It wasn't clear whether the link was in government service or of another nature.
Atkinson wrote in a letter to Joseph Maguire, acting director of national intelligence, that a preliminary review of the whistleblower's complaint found "some indicia of an arguable political bias on the part of the Complainant in favor of a rival political candidate."
The "rival political candidate" was not named and Atkinson, who previously worked for in the Department of Justice, still found that the allegations appeared credible.
CNN previously reported that the indication of bias was that the whistleblower admitted to being a registered Democrat, citing a source. The outlet, which is openly antagonistic to Trump, did not mention other reported indications of bias against the president.
The complaint relied on secondhand information and media reports and largely focused on a phone call Trump had in July with Ukrainian President Volodymyr Zelensky.
The complaint was released to the public in late September, a day after Trump's White House released a transcript of the call.
Former Vice President Joe Biden and other Democratic presidential candidates have accused Trump of improperly pressuring Zelensky to probe Biden's role in pressuring the Ukrainian government in 2016 to dismiss a prosecutor who was investigating Burisma, a company that Biden's son Hunter Biden served on the board for.
Biden bragged last year that he threatened to withhold $1 billion in aid unless then-President Petro Poroshenko ousted Viktor Shokin, the prosecutor.
"I said, nah, I'm not going to—or, we're not going to give you the billion dollars," Biden said. "I looked at them and said: I'm leaving in six hours. If the prosecutor is not fired, you're not getting the money. Well, son of a [expletive]. He got fired."