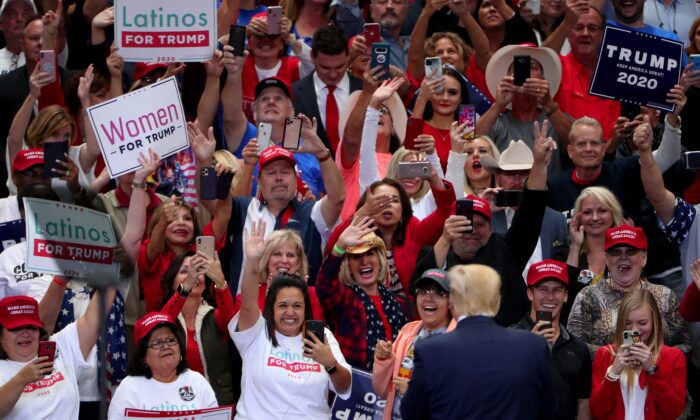 Source: PETR SVAB
More than one in five people who registered for President Donald Trump's "Keep America Great" campaign rally in Dallas, Texas, were Democrats, according to Trump's campaign manager Brad Parscale.
Parscale, whose forte is data analysis, has posted breakdowns of data collected from the registrations from the past several rallies.
"Incredible data from last night's Dallas rally," he wrote in an Oct. 18 tweet.
The data revealed that nearly 54,000 voters signed up for the event, with nearly one in eight (12 percent) who didn't vote in the last four elections and more than one in five (21.4 percent) who identified as Democrats. Eleven percent of the registrants are Hispanic.
"These are winning numbers that will help win #FourMoreYears for @realDonaldTrump!" Parscale wrote. "We continue to outperform 2016."
Trump carried the state of Texas in 2016 with nearly 4.7 million votes compared to the less than 3.9 million garnered by his Democrat opponent, former Secretary of State Hillary Clinton.
Trump Crowds
Trump rallies are the most tangible demonstration of support for the president. The American Airlines Center was filled to capacity (some 20,000 people) with tens of thousands more gathered outside to watch the rally on a large screen. People had been lining up more than 24 hours before the rally started, campaign's spokeswoman Kayleigh McEnany documented in a video posted on Twitter on Oct. 16.
"This rally is amazing. Like, I have never seen anything like this before," comedian Terrence Williams told Right Side Broadcasting Network.
Williams has been a bit of celebrity among Trump supporters for voicing conservative views on his Youtube channel, often eating fried chicken or slurping soda while offering humorous political or social commentary. This was the first time for him to attend a Trump rally.
"I mean, the energy is unbelievable," he said. "Everybody is friendly.
"I was told that people at the Trump rallies are dangerous but I've been getting hugs all day. So the media have been lying. This is awesome."
Rally Data
The relatively high percentage of Democrats among those signing up for the rally seem to be a continuation of a trend.
Parscale first started to post highlights from the registration data after the Sept. 16 rally in Rio Rancho, New Mexico. Clinton won the state by a more than 8-percent margin in 2016.
"@realDonaldTrump rally in NM was a data gold mine," he commented on Twitter.
Of the 45,000 who registered, 94 percent were from within the state and 78 percent were matched to voter file.
More than one in five voted in one or none of the last four elections and 40 percent were Hispanic, the data showed. Nearly one in three were Democrats.
A similar breakdown was posted by Parscale after the Oct. 10 rally in Minneapolis.
Over 42,000 voters were identified in the data of whom 13 percent voted in none or one of the last four elections. Also, 30 percent were Democrats.
"This is a massive amount of data that will help our models improve to win Minnesota!" Parscale said.
Clinton won Minnesota by less than 45,000 votes.