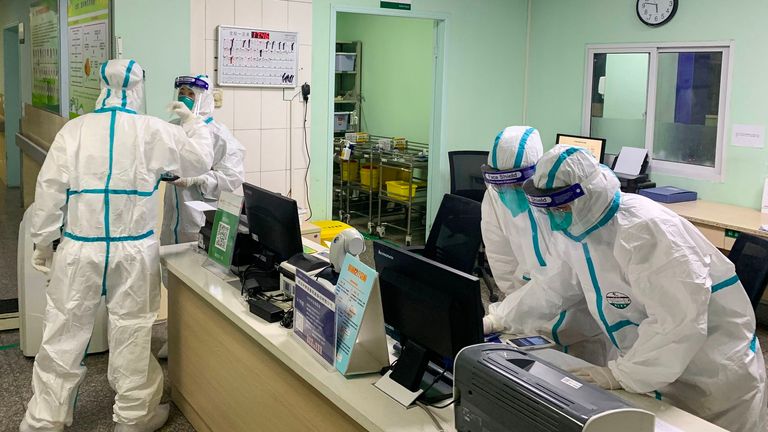 Source: Sunita Patel-Carstairs
The number of
people killed

in China by the virus rises to

26

and the number of confirmed global cases stands at more than

850

.

The new deadly coronavirus has now reached Europe after France confirmed two cases.

A 48-year-old man is being treated in a Bordeaux hospital in the southwest of the country after testing positive.

He had passed through the Chinese city of Wuhan – the epicenter of the outbreak – before arriving in France on Wednesday.

The second person was in hospital in Paris and had also traveled to China but little more is known about them.

Health Minister Agnes Buzyn said France has developed a test where doctors can quickly diagnose patients and this was one reason why it was the first European nation to confirm cases.

Ms. Buzyn predicted there would probably be more positive tests in her country.

It comes as the United States announced a second case after a woman was found to have contracted the strain.

She is in her 60s and is being treated in a Chicago hospital where she is reportedly doing well.

The patient had traveled to Wuhan in December and flew home to Illinois on 13 January. She did not show symptoms on the flight back.

The first confirmed case in the US was a man in his 30s from Washington State who was found to be infected with the new strain after returning home from a recent visit to Wuhan in Hubei province.

He is said to be recovering but is still being treated at Providence Regional Medical Centre in Everett, Washington.

US health officials have taken strict measures to try to stop the spread of the pneumonia-like illness.

They include screening passengers who arrive at US airports from China, quarantining them if necessary, and isolating patients confirmed to have the disease.

Meanwhile, China is building a new 1,000-bed hospital in just six days to treat victims of the virus.

Work has started on the structure in Wuhan in the style of a facility Beijing constructed during the SARS epidemic 17 years ago.

Machinery including 35 diggers and 10 bulldozers arrived at the site on Thursday night, with the aim of the hospital being operational by 3 February.
It comes as the coronavirus death toll in China increased to 26 and the number of confirmed cases around the world was more than 850.
Lockdowns to contain the new virus have been extended to at least 10 cities – including nine in Hubei province – effectively isolating 33 million people.
Restrictions include the suspension of public transport services, while some cities have also shut public venues such as temples and cinemas.
Authorities have warned of more stringent and targeted measures.
"The spread of the virus has not been cut off. Local authorities should take more responsibility and have a stronger sense of urgency," state broadcaster CCTV said.