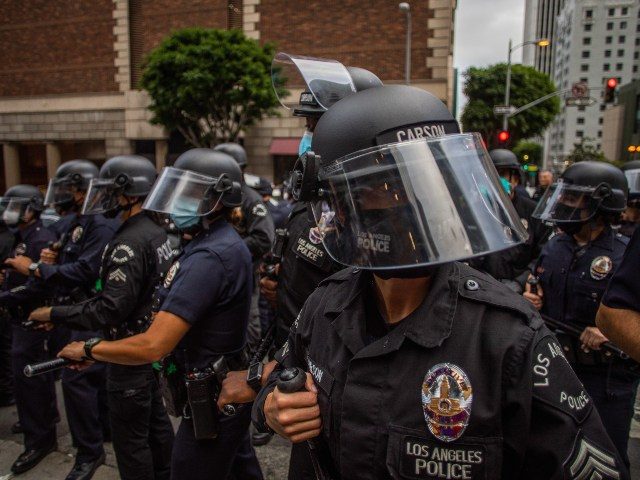 Source: David Ng
Los Angeles police withheld retaliatory fire after a protester shot rounds at law enforcement officials during the riots that swept through downtown L.A. late Friday and into Saturday morning, sources familiar with the matter told Breitbart News.
The incident occurred early Saturday morning between 12:30 and 1 a.m., when an unidentified protestor fired an estimated ten rounds from a small firearm in the direction of law enforcement near 5th and Main Streets, according to those sources.
Breitbart News was told by sources that the bullets missed and that LAPD officers showed restraint at the scene by not returning fire because the culprit was running away.
A spokesman for the LAPD confirmed that the police didn't fire back, but couldn't provide additional details. A source familiar with the events told Breitbart News that the individual was arrested by police.
The potentially deadly encounter would have inflamed an already volatile national atmosphere as rioters in cities around the country took to the streets in protest of the death of George Floyd in Minneapolis while in police custody.
Rioters began marching through downtown L.A. late Friday, with protestors blocking surface streets as well as sections of the busy 110 Freeway. Looters broke windows and stole merchandise from stores. Looting reportedly took place even after the LAPD declared unlawful assembly in the downtown area shortly before 9:30 p.m.
"Residents should stay inside — business should close — those on the street are to leave the area," the LAPD announced on Twitter.