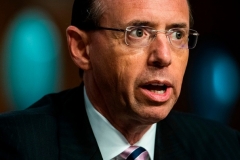 Source:
(CNSNews.com) – Former Deputy Attorney General Rod Rosenstein told the Senate Judiciary Committee on Wednesday that in retrospect, he would not have signed a FISA renewal on Carter Page in June 2017:
"Have you looked at the Horowitz report?" Chairman Lindsey Graham asked Rosenstein: "If you knew then what you know now, would you have signed the warrant application?"
"I would not," Rosenstein said. https://www.mrctv.org/embed/550642
"And the reason you wouldn't have is because Mr. Horowitz found exculpatory information was withheld from the court, is that correct?" Graham asked him.
"Among other reasons," Rosenstein said.
Graham noted that Justice Department Inspector General Michael Horowitz found 17 violations, including the alteration of an email by an FBI lawyer.
"But I can't stress enough to the country that he found the most egregious of all — the dossier was the only reason the Carter Page warrant was issued to begin with in January of 2017. The man who provided Steele with all the information told the FBI it was a bunch of garbage and they used it twice more. What kind of country is this? What happens to people who do that? Did you know that?"
"No, sir," Rosenstein said.
Graham asked him if he thinks former FBI Deputy Director Andrew McCabe knew it.
"I hope not, Senator, I do not personally know," Rosenstein said.
Graham asked Rosenstein if McCabe, who was in charge of the Crossfire Hurricane investigation, ever lied to him.
After a pause, Rosenstein said, "I don't believe, Senator, that there were any occasions in which I identified that he lied to me," Rosenstein said.
Graham followed up: "Did he ever say anything, looking back, that is perplexing to you?…Do you think he was truthful to you?"
"I believe, Senator, that Mr. McCabe was not fully candid with me. He certainly wasn't forthcoming, in particular, Senator, with regard to Mr. Comey's memoranda of his interviews with the president and with regarding FBI suspicions about the President. Mr. McCabe did not reveal those to me for at least a week after he became acting director, despite the fact we had repeated conversations focusing on this investigation."
(Rosenstein later said he learned about the Comey memos from McCabe "until a couple of hours before they showed up in the New York Times.")
Graham also asked Rosenstein — knowing what he knows now — if he has any reservations about appointing Robert Mueller to investigate Trump-Russia collusion, given the fact that by (August) of 2017, there was "zero evidence" that any of the people being investigated were working with the Russians.
Rosenstein responded, "The decision that I made, obviously, was based on the information I had at the time."
Graham said he was asking if there was a "legitimate reason" to believe that people associated with Trump were actively working with the Russians in August 2017.
"My understanding, Senator, was, there was," Rosenstein said, although that turned out not to be the case.
Graham again: "The point is, the whole concept that the campaign was colluding with the Russians, there was no there, there in August of 2017. Do you agree with that general statement or not?
"I agree with that general statement," Rosenstein said.