This article was originally published by Tyler Durden at Zerohedge.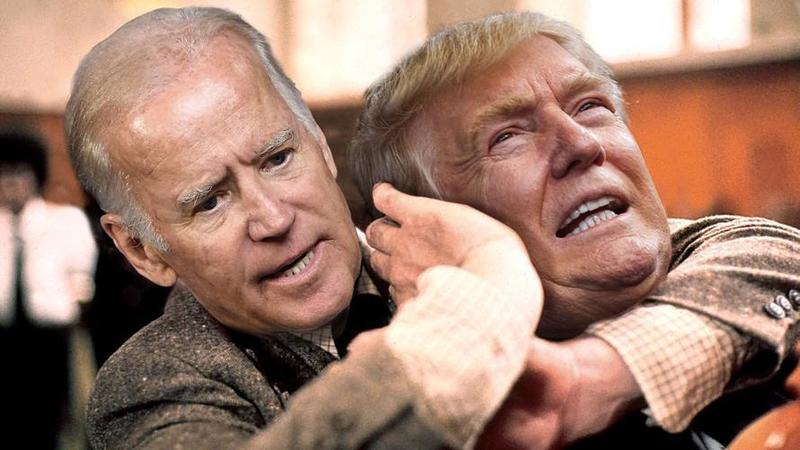 …and this is for all the marbles.
RESULTS (0235ET):
TRUMP
Total 213 – KY (8), IN (11), WV (5), SC (9), AL (9), TN (11), OK (7), MS (6), ME (1/2) FL (29), AR (6), WY (3), LA (8), ND (3), SD (3), NE (4/5), KS (6), MO (10), UT (6), ID (4), OH (18), TX (38), IA (6), MT (3)
BIDEN
Total 238 – VT (3), VA (13), CT (7), IL (20), DE (3), NJ (14), RI (4), ME (1/2), MA (11), MD (10), DC (3), NY (29), NM (5), CO (9), NH (4), NE (1/5) CA (55), OR (7), WA (12), AZ (11), NM (5), HI (4), MN (10)
Only one state flipped (for now if Fox projections hold): Arizona for Biden.
NBC News projects that Democrats will maintain their control of the House of Representatives.
It's looking less and less likely that the Democrats will take over the Senate. They lost crucial races in Montana and Iowa and their path is narrowing rapidly.
Mail-in ballot delays are hitting now:
WI (no way we're announcing tonight),
MI (Friday),
PA (no count anytime soon) and
GA (biggest Dem county stopped counting, Trump leading by 300k).
That's 62 electoral votes in total. 62 is a big number in a race for 270. That's why we might not know tonight.
Jonathan Tamari of the Philadelphia Inquirer warned that:
"One huge red flag for Biden in PA: He's currently trailing in Chester County, a key suburb that Clinton won by 25.5k – and Dems were counting on for a bigger win. Still a lot of mail ballots not counted there, but Biden needs to win big there."
Biden addressed the nation at 0045ET:
"Your patience is commendable. We knew this was going to go long, but who knew we were going to go into tomorrow morning, maybe even longer. But look, we feel good about where we are. We really do. I'm here to tell you tonight we feel confident we are going to win this election."

"We believe we're on track to win this election," Biden says.

"We can know the results as early as tomorrow morning but it may take a little longer. As I've said all along it's not my place or Donald Trump's place to say who wins the election, it's up to the American people."

"Keep the faith guys! We're going to win this"
Trump replied, via tweet:
"We are up BIG, but they are trying to STEAL the Election. We will never let them do it. Votes cannot be cast after the Polls are closed!"
Adding that he will be making a statement tonight, "a big win!"
Twitter immediately censored it…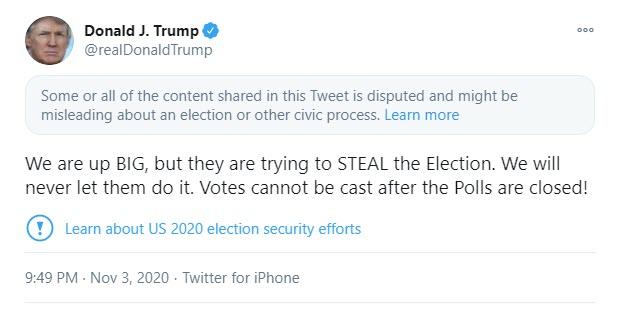 As Michael Tracey noted, "We're approaching a nightmare scenario. They're both essentially declaring victory."
Trump delivered a statement at 0220ET. Trump says "millions and millions of people voted for us tonight, and a very sad group of people is trying to disenfranchise that group of people, and we won't stand for it."
He said he was getting ready for a "big celebration. We were winning everything and all of a sudden it was just called off."
"We won states that we weren't expecting to win."

"It's also clear that we have won Georgia. We're up by 2.5%"

"Arizona we have a lot of life in that and somebody said — somebody declared it was a victory for him."

"We've clearly won North Carolina, we're up 1.4%."

"Most importantly we are winning Pennsylvania by a tremendous amount."

"we had such a big night. You look at all the margins we won them by."

"I said: What happened to the election, it's off."

Trump says Democrats "knew they couldn't win, so they said let's go to court."

"This is a fraud on the American public, this is an embarrassment to our country. We were getting ready to win this election, frankly we did win this election. So our goal now is to ensure the integrity for the good of this nation."

"We'll be going to the U.S. Supreme Court. We want all voting to stop. We don't want them to find any ballots at 4 AM in the morning and add them to the list."

"We will win this."
* * *
As Victor Davis Hanson notes, the 2020 election is not just about Joe Biden sitting on a perceived lead and trying to run out the clock against barnstorming incumbent President Trump. It is really a choice between changing rules when they are deemed inconvenient and respecting constitutional norms and long-held traditions that have served America well for many years.
UPSETS/NOTABLE
BIG LOSS FOR TRUMP – FOX CALLS ARIZONA FOR BIDEN
Additionally, Democrat Mark Kelly is way ahead of GOP incumbent Martha McSally in the Arizona Senate race. More than 10 points ahead with 73% of precincts reporting.
The Trump campaign is not happy at the early call from Fox. Campaign spokesman Jason Miller tweeted:
We only need 61% of the outstanding, uncounted Election Day votes in Arizona to win.

These votes are coming from "our counties," and the 61% figure is very doable based on what our other Election Day votes are looking like.

@FoxNews should retract their call immediately.
Politico / WSJ / NYT not calling AZ for Biden
REPUBLICANS FLIP ALABAMA SENATE SEAT
AP is projecting that Tom Tuberville, a former Auburn University football coach, has won the Senate race in the red state of Alabama, unseating Democrat Doug Jones who won the seat in a special election in 2017. So that's a pickup for the Republicans. The Democrats so far have picked up one Senate seat — Cory Gardner's in Colorado.

BOOKIES FLIP TO TRUMP FAVORITE
BetFair Exchange has flipped its odds to Trump (77%) and Biden (23%)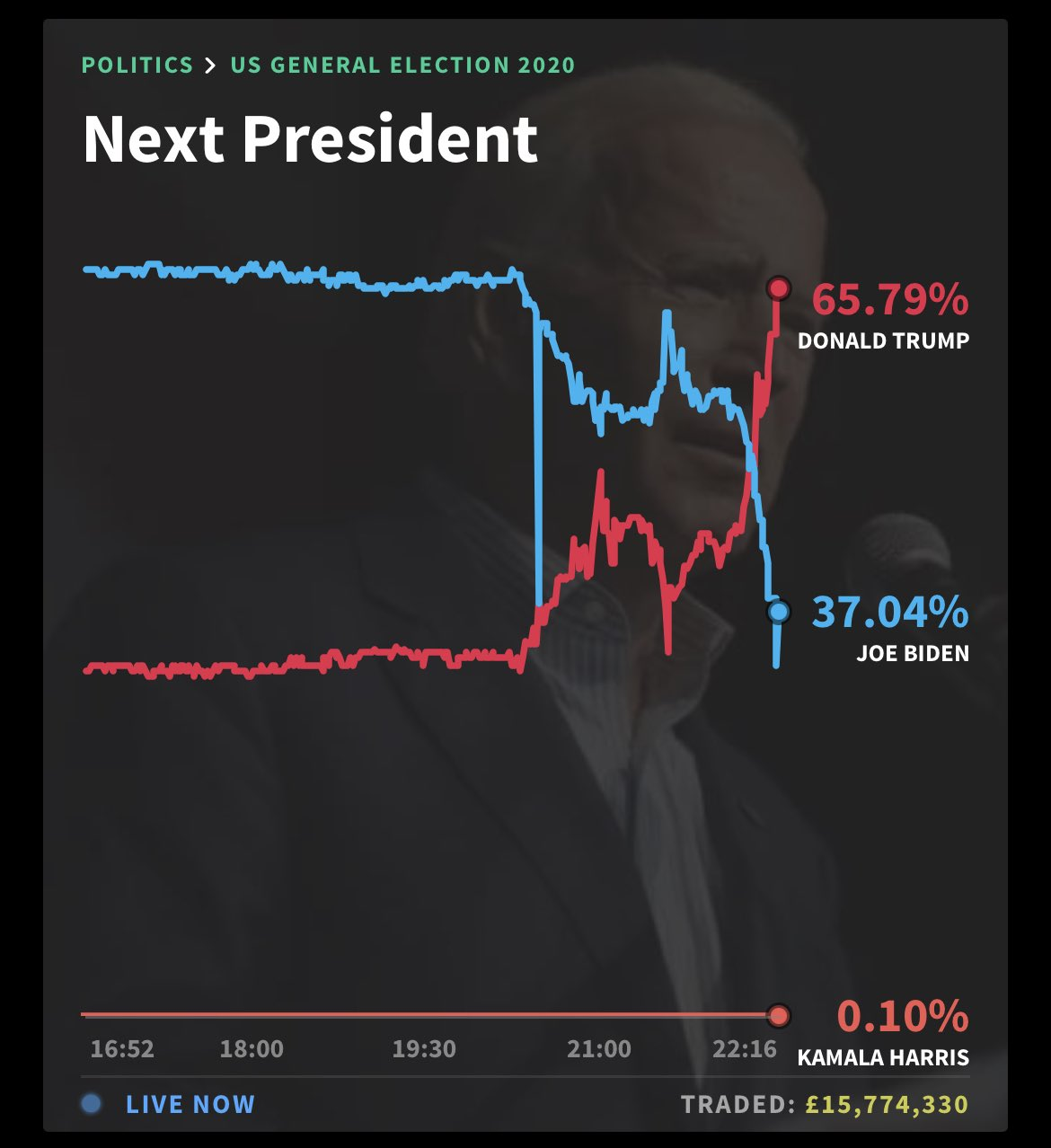 Meanwhile over at PredictIt…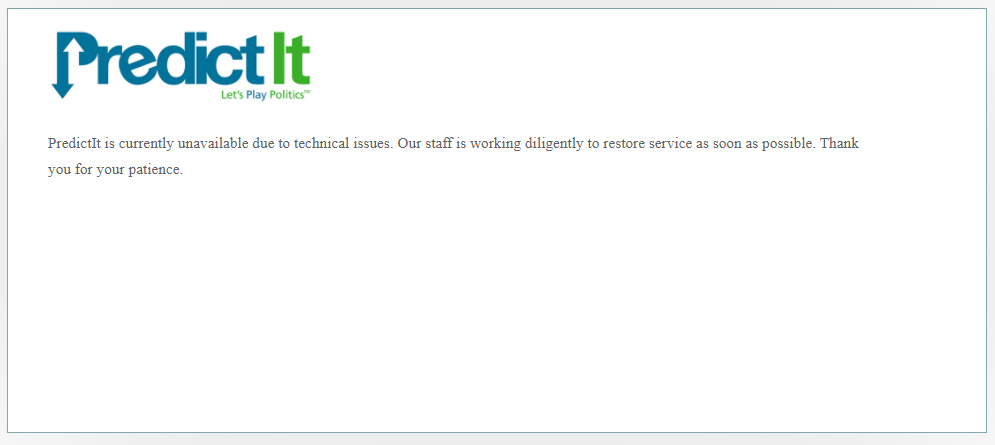 Some folks are gonna be upset…