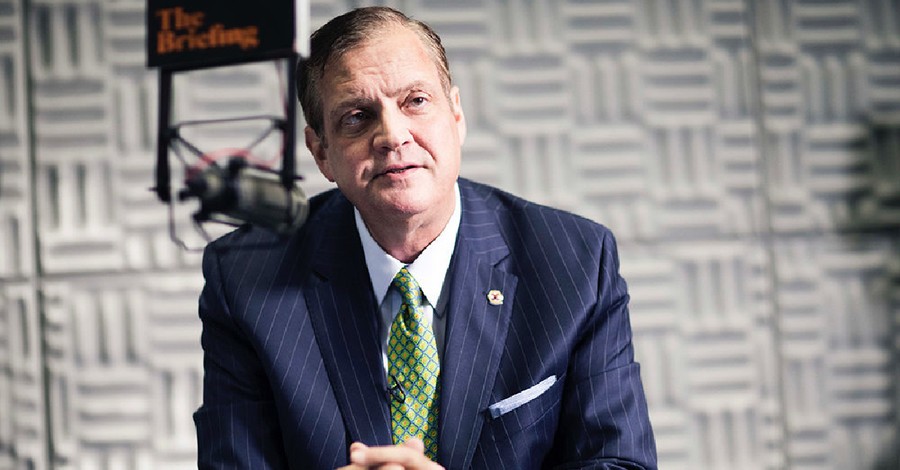 Source: Michael Foust | ChristianHeadlines.com Contributor
Seminary president and theologian Albert Mohler on Monday said he will take the COVID-19 vaccine as soon as it is available to him and that he will do so not only for his health but also for the health of others.
The president of the Southern Baptist Theological Seminary in Louisville, Ky., made the comments in a column on his website in which he listed seven moral principles for Christians to consider when studying the usage of vaccines.
Mohler was referencing the Pfizer vaccine – which began shipping this week – and the Moderna vaccine, which is expected to be approved by the FDA in the coming days.
"Reasonable Christians and Christian parents will differ over whether or not to take the vaccine," Mohler wrote. "But, speaking personally, I will take this vaccine as soon as it is available to me. I will take it not only for what I hope will be the good of my own health, but for others as well. I will seek to encourage others to take the vaccine."
Christians should consider taking the vaccine, Mohler wrote, for the "common good" of society.
"The common good argument is extremely powerful in the Christian tradition," Mohler wrote. "Indeed, it is the second greatest commandment listed by Jesus Christ: to love our neighbors as ourselves. The general principle of the common good comes down to benevolence, love, care for others, laying down personal priorities for the service of others. Christians thinking about the issue of the vaccine must weigh this key biblical principle as part of their thinking."
Those who view vaccines as solely an individual choice should consider their decision's impact on others, he said.
"Such a person might say, 'If a vaccine is available, then people can take it who want it. I'm not taking it. I pose no threat to anyone. I'll deal with the consequences of my own actions,'" Mohler wrote. "Here is the problem with this kind of moral equation: There are third parties – people who cannot take the vaccine or do not yet have access to it that could still be infected by those who refuse to take the vaccine."
The Pfizer and Moderna vaccines, he wrote, can be embraced by pro-lifers.
"If the abortion of even a single human baby was required for this vaccine, or if abortion-derived materials were included in the vaccine, Christians would be rightly outraged," he wrote. "This is not the case. The vaccine can be taken by pro-life Christians with legitimacy."
Mohler compared the scientific achievement of the vaccine's speedy development to the 1969 Apollo 11 mission to the moon.
"This is an unprecedented event in medical history," he wrote. "… It generally takes years for the development of a successful vaccine, if indeed a vaccine is ever developed. Medical science and development, however, has shattered those typical expectations. … The creation of vaccines in such a short amount of time is something to be celebrated."