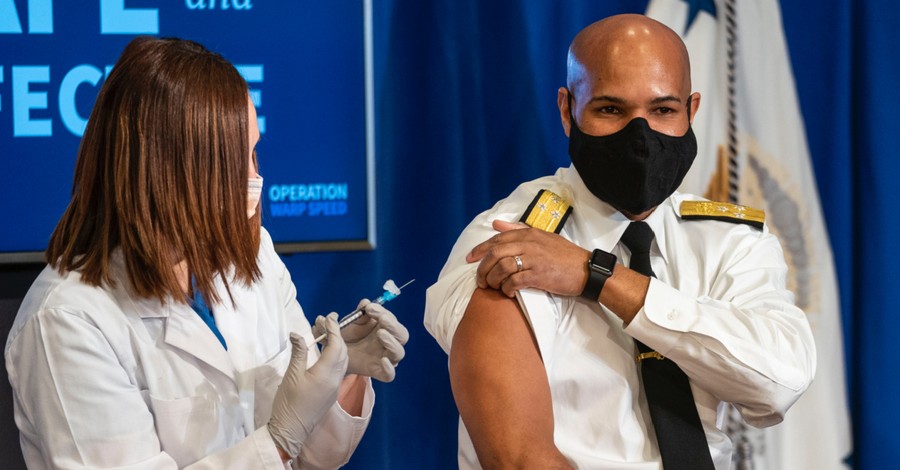 Source: Michael Foust | ChristianHeadlines.com Contributor
The U.S. surgeon general says the speedy development of a Covid-19 vaccine is due to divine intervention.
Surgeon General Jerome Adams credited God for the vaccines during a press conference Friday in which he, Vice President Mike Pence and Second Lady Karen Pence each received a dose of the Pfizer vaccine.
Since then, the FDA approved a second vaccine, this one by Moderna.
"As I've discussed with faith leaders as recently as [Thursday] night, the creation of these vaccines is a gift from above," Adams said at the press conference.
Adams added, "We must now do the necessary work to go from vaccines to vaccinations. It would truly be the greatest tragedy of all if disparities and COVID outcomes actually worsened because the people who could most benefit from this vaccine can't get it, or won't take it."
Adams often has discussed his faith during his time in office, and earlier this year gave interviews to Focus on the Family, CBN and Christian Headlines. During the Focus on the Family broadcast, Adams was asked to consider: Why is the pandemic happening?
"I often think about the many places in the Bible where we're told God doesn't put you where you're going to be comfortable, God puts you where you need to be," Adams told Focus on the Family in April. "… The most powerful thing you can do for me is to pray for me to hear what He is trying to tell me."
Adams also quoted 1 Peter 5:7 on the broadcast.
"Cast your anxiety on Him, for He cares for you," Adams said. "I think it's important that people remember that [verse] because people are scared, people are anxious. They need to know that there is a larger plan, a higher power at work."
Adams, during the April broadcast, urged families to draw closer during the time together.
"Amidst all this tragedy, there are some tremendous opportunities to come together with your family, to love more deeply, to do things that we haven't made time to do in the past," Adams said. "And my hope is that we'll be able to salvage some good out of this time that we've been given while we also work to minimize the harm, and the tragedy that comes out of this."
Cells from abortions were not used during the development of either vaccine, according to the pro-life Charlotte Lozier Institute. The U.S. Conference of Catholic Bishops has urged Catholics to get vaccinated with either the Pfizer or Moderna vaccines, calling such an action "an act of charity toward the other members of our community."