Source: AWR HAWKINS
Over 30 people were shot, three of them fatally, Friday into Saturday night across Mayor Lori Lightfoot's (D) Chicago.
ABC 7 / Chicago Sun-Times reports 31 people were shot by 9:52 p.m. Saturday night.
The three fatalities occurred on Saturday, beginning with a 34-year-old woman who was sitting in a vehicle "in the 8700 block of South Lafayette Avenue" around 1: 25 a.m. Someone shot the woman in the head, fatally wounding her.
The second shooting fatality took place just before 5 p.m., when a 24-year-old was shot in the head during a drive-by attack "in the 900 block of East 79th Street."
The 24-year-old was transported to the hospital and pronounced dead.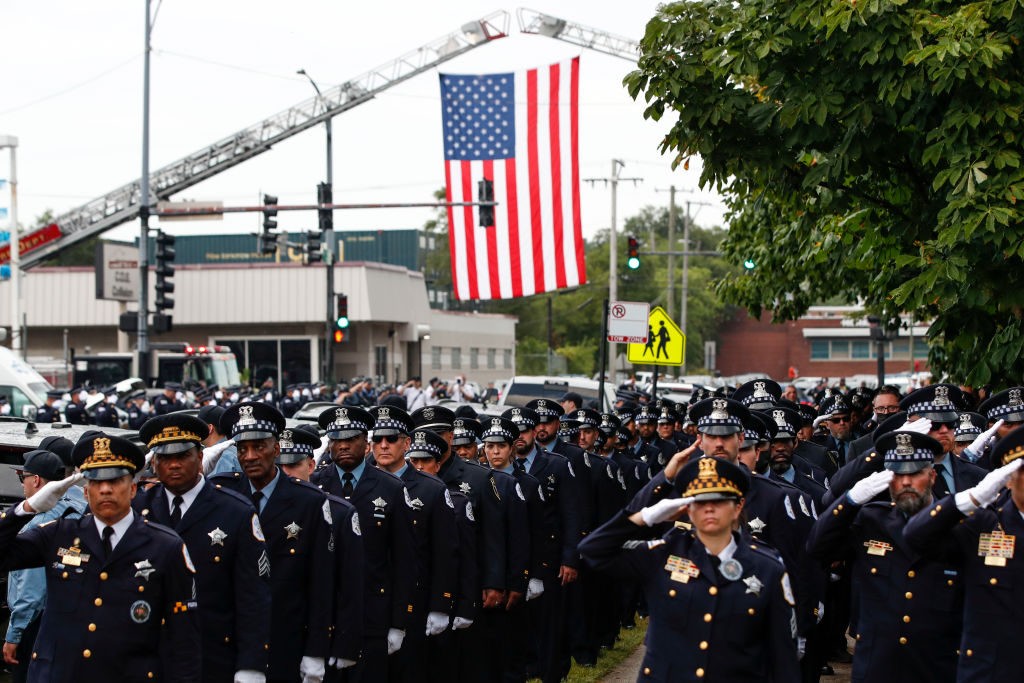 Chicago Police officers salute as they attend the funeral for Chicago Police Officer Ella French on August 19, 2021 in Chicago, Illinois. 29-year-old Officer French was shot and killed while conducting a traffic stop on August 7th, her patrol partner, 39-year-old Carlos Yanez, was also shot and remains hospitalized. (Kamil Krzaczynski/Getty Images)
A 42-year-old woman was shot and killed around 9:40 p.m. while walking towards her vehicle "in the 300 block of East Kensington Avenue."
The woman was shot in the armpit and taken to a hospital where she died.
On September 9, 2021, Breitbart News noted there have been over 3,100 shooting victims in Chicago so far this year. The Sun-Times points out there were over 530 homicides in the city during the same time-frame.
HeyJackass.com observes 27 people shot and killed in Chicago thus far in September alone.