Posted BY: Billy | NwoReport
You may have heard people ask the question, "What is a woman?"
But after a tweet sent from President Joe Biden's account that was desperately looking to claim some kind of a win on gas prices, some are asking, "What is a peson?"
"For American families looking for a little more breathing room, these savings matter," Biden's account tweeted.
It shared a graphic that stated the "average driver" would spend $35 less on gas per month, while two drivers would pay $70 less.
For American families looking for a little more breathing room, these savings matter. pic.twitter.com/IdDv2JGXAD

— President Biden (@POTUS) July 25, 2022
Trending:
But it did not take long for Twitter users to notice that the graphic read, "$35 less per month for one peson" instead of "person."
Who spellchecked this…? What is a "peson?" https://t.co/xiinvtyylv

— Rebecca Downs (@RebeccaRoseGold) July 25, 2022
Peson, that's what you call the American taxpayers you pee on right? https://t.co/XQVx5gu7cM

— Ian Miles Cheong (@stillgray) July 25, 2022
Do you think there will be some staff changes?
did kamala write this tweet? https://t.co/8iSyaUcdYA

— Peyton (@NEUF_92) July 25, 2022
lol this is a satire account now https://t.co/CtyB2iyeUr

— Adam Crigler (@AdamCrigler) July 25, 2022
Lol, "gas prices still historically suck, just not *quite* as much" is incredible messaging.

Also, not being bothered to spell "person" correctly in your graphic is embarrassing. https://t.co/XUwYBp9twH

— John Cooper (@thejcoop) July 25, 2022
Prices doubled, then came back down by 10-20 percent. That isn't giving anyone any breathing room. And it's spelled "person," not "peson." https://t.co/SBarWILBg9

— Liam Miguel Simard (@LiamSimard) July 25, 2022
Unfortunately for this White House, this is not the first time there has been an embarrassing typo in a graphic.
Earlier this month, Vice President Kamala Harris attended an event in New Orleans, Louisiana, and gave a roughly 30-minute interview.
Behind her was a sign that read, "Vice President Kamala Harris. New Orleans Lousiana."
It notably left out the other "i" in the state's name.
'A PERFECT METAPHOR': Kamala Harris delivers interview in front of official sign with Louisiana misspelled https://t.co/GfqNuBs0cQ

— Fox News (@FoxNews) July 6, 2022
There was also the not-so-brilliant decision to have Biden deliver a speech on climate change in front of what looked like a random dump: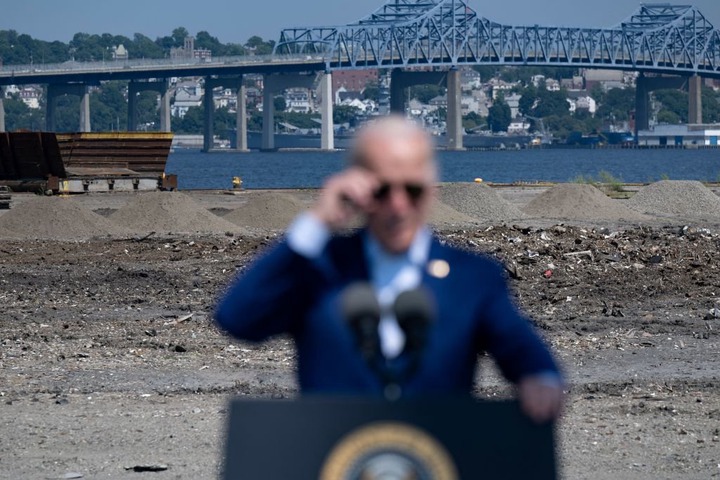 Biden and Harris, of course, do not make the graphics that appear behind them or are tweeted out. And the former president and his administration made plenty of spelling mistakes.
But it is somewhat amazing that despite rumors of possible West Wing shake-ups and abysmal numbers ratings, the first stories that pop up when you search "White House staff fired" are about staffers who were fired last year over marijuana use.
Despite all the failures and bizarre communications issues, the White House seems determined not to fire anyone — even though the polls and public sentiment are clearly showing that it needs a shake-up.
That's not to say someone should be fired for a typo. But when you have speeches with words the president can't pronounce, or you have a comparison of the Hispanic community to breakfast tacos in a speech, or a vice president who repeatedly seems unprepared for questions and gets stuck repeating strange phrases, and nothing changes for the better, perhaps it is time for a new communications team.
Truth and Accuracy
We are committed to truth and accuracy in all of our journalism. Read our editorial standards.