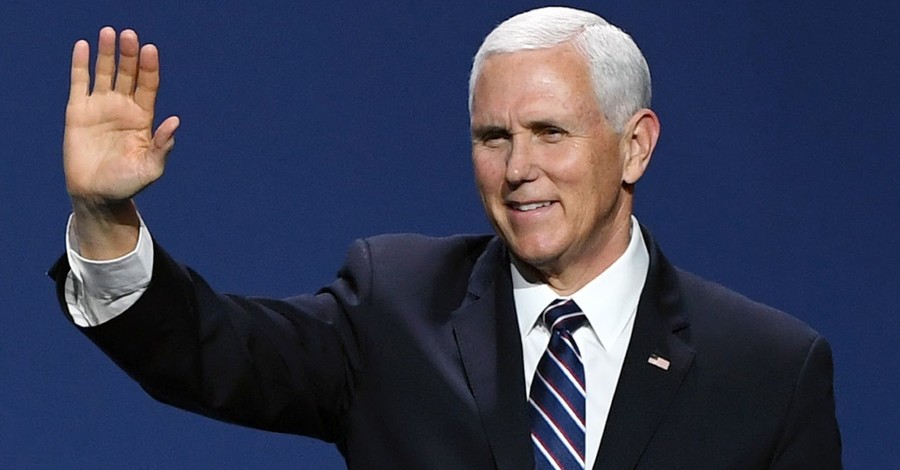 Source: Michael Foust | ChristianHeadlines.com Contributor
Editor's Note: This article (publication date: October 20, 2020) is part of a series leading up to the 2020 presidential election highlighting the professed faith of several of the candidates running for President and their vice-presidential candidates, including Donald Trump, Joe Biden, Kanye West, Mike Pence and Kamala Harris. Christian Headlines offers these faith summaries as a way of informing voters about the religious beliefs of the candidates.
Vice President Mike Pence is one of the more outspoken Christians in the nation's capital, frequently discussing faith during speeches and interviews and often thanking Americans for their prayers.
Here are five things Christians should know about his faith:
Photo courtesy: ©Getty Images/Ethan Miller/Staff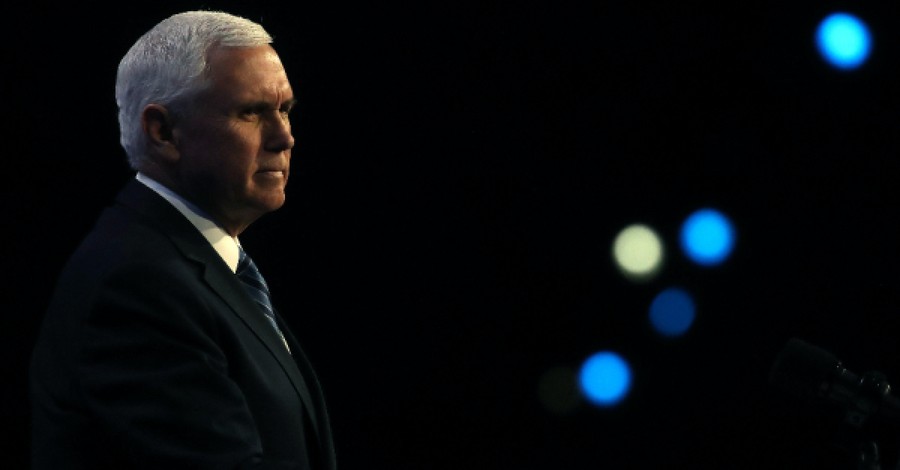 1. HE SURRENDERED HIS LIFE TO CHRIST AS A TEENAGER
Pence recounted his personal testimony during an address to the Southern Baptist Convention in 2018.
"I was raised in a churched home; it was grace before dinner and church on Sunday morning," he said then. "But 40 years ago this spring, I heard the very message that Southern Baptists speak so faithfully across this nation every day. I heard it fresh in my ears, as though it had been for the very first time, that 'God so loved the world, that He gave his only begotten Son, that whosoever might believe in Him would not perish, but have everlasting life.' And I walked the sawdust trail that night in 1978, and gave my life to Jesus Christ."
His decision for Christ took place at a Christian music festival in Wilmore, Ky.
Photo courtesy: ©GettyI mages/Mark Wilson/Staff
2. HE WAS RAISED CATHOLIC
Before Pence joined the evangelical movement, he was Catholic.
"I'm the son of two devout American Catholics, and the grandson and the namesake of an Irish immigrant," Pence told the National Catholic Prayer Breakfast in 2017.
Born in 1959 in Columbus, Ind., he was raised in a Catholic home that supported President John F. Kennedy, who also was Catholic.
"The hymns and liturgies of the Catholic Church are the anthems of my youth." he told the National Catholic Prayer Breakfast in 2017. "The Bible says 'train up a child in the way he should go, and when he's old, he'll not depart from it.' I want to tell you as a young boy growing up in a small town in southern Indiana, my Catholic faith poured an eternal foundation in my life. … I was the beneficiary of an extraordinary Catholic education, went to public high school. But that foundation continues to serve and inform me every day."
After he entered politics, he often labeled himself an "evangelical Catholic," but eventually stopped using the term.
He began attending an evangelical megachurch, Grace Evangelical Church, in the mid-1990s.
Photo courtesy: ©Getty Images/Scott Olson/Staff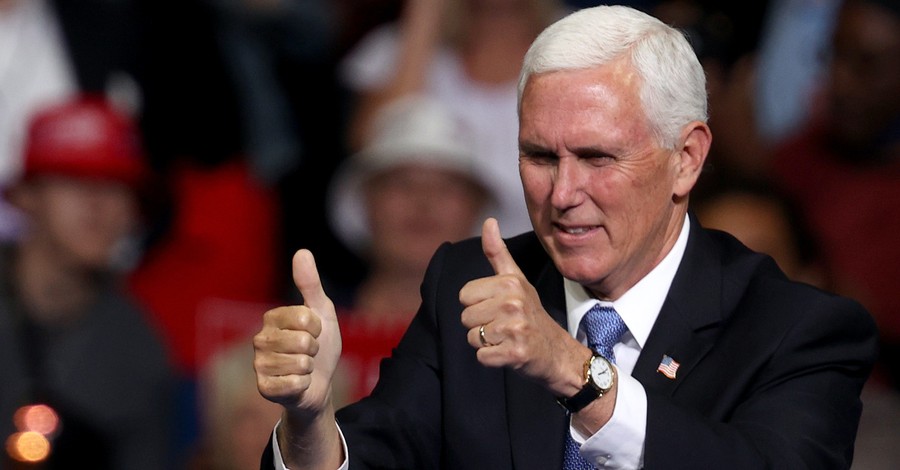 3. HE CALLS HIMSELF A 'CHRISTIAN, A CONSERVATIVE AND A REPUBLICAN, IN THAT ORDER'
Pence has often said his political views are influenced by his faith.
Speaking to a pro-life gathering this year, Pence said that "when we make life our cause, we make His cause on this earth our own – the Author of life." He quoted the Bible while adding, "The One who said 'before you were formed in the womb I knew you' will fight alongside us and will touch hearts and minds and will restore the right to life … at the center of our nation's laws."
Photo courtesy: ©Getty Images/Win McNamee/Staff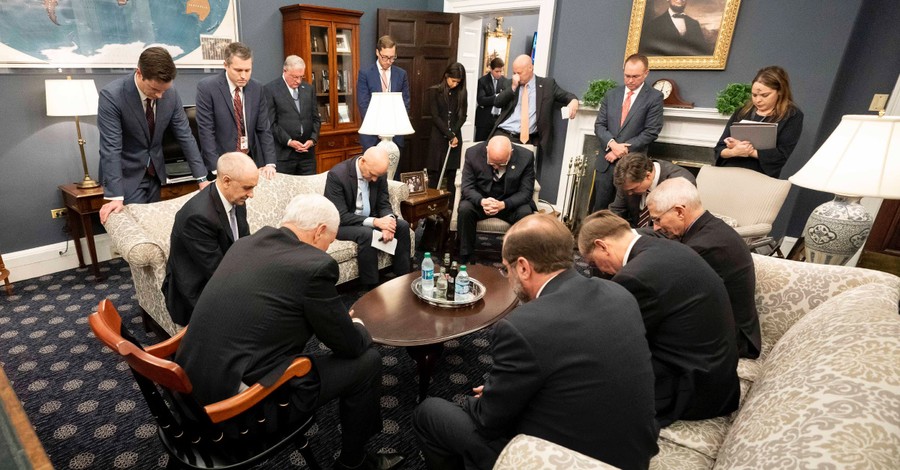 4. HE OFTEN DISCUSSES THE 'POWER OF PRAYER'
Pence frequently thanks audiences for praying for him and his wife, Karen. Personal prayer seems to be a major part of his life. In March, a photo showing Pence and members of the Coronavirus Task Force praying was mocked by many on social media.
"For our family, prayer has always been an important part of our lives, just as it has for millions of Americans," Pence said in May this year. "Karen and I will both attest that the sweetest words that we ever hear are when people will take a moment, walk up, and say, 'I'm praying for you.' And you know they mean it from their hearts and we hear it all of the time. We can attest firsthand, America is a nation of prayer.
"The American people have long believed in the power of prayer, that the effective and fervent prayer of a righteous person availeth much, and that in everything by prayer and petition with thanksgiving, we're to present our request to God with the promise that the peace of God that passes all understanding will guard our hearts and our minds in Christ Jesus."
Photo courtesy: Public Domain/White House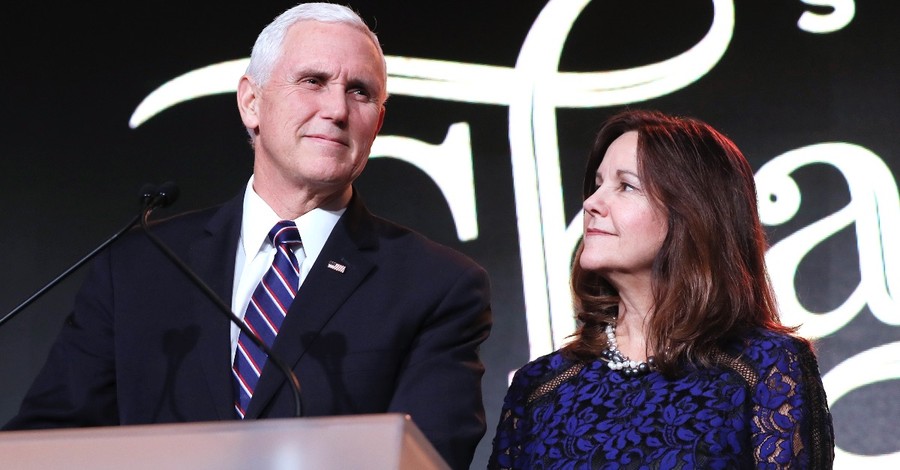 5. HE HAS JEREMIAH 29:11 HANGING ABOVE HIS MANTLE
Pence said in 2017 that the well-known verse, Jeremiah 29:11, hangs above his mantle.
"It reads, 'For I know the plans I have for you, plans to prosper you and not to harm you, plans to give you hope and a future,'" Pence said. "For me, faith is not about believing in yourself – it's about believing in the One who leads, the One who guides, the One who is ever faithful, who knows the plans He has for us. Plans to prosper us, not to harm us, plans to give us a hope."
Photo courtesy: ©Getty Images/Paul Morigi/Stringer