Ten seconds of googling could have saved him the embarrassment
Rep. Ted Lieu (D-Calif.) was forced to apologize Friday and delete a tweet that was meant to mock President Donald Trump and his recent declaration of a national emergency at the U.S.-Mexico border.
The outspoken Trump critic noted that the president had taken a trip to Alabama, and used the occasion to ridicule him for not paying the attention to the emergency at the border.
"WE ARE IN THE THIRD WEEK OF THE NATIONAL EMERGENCY!" he tweeted in all-caps. "Can you feel the emergency?"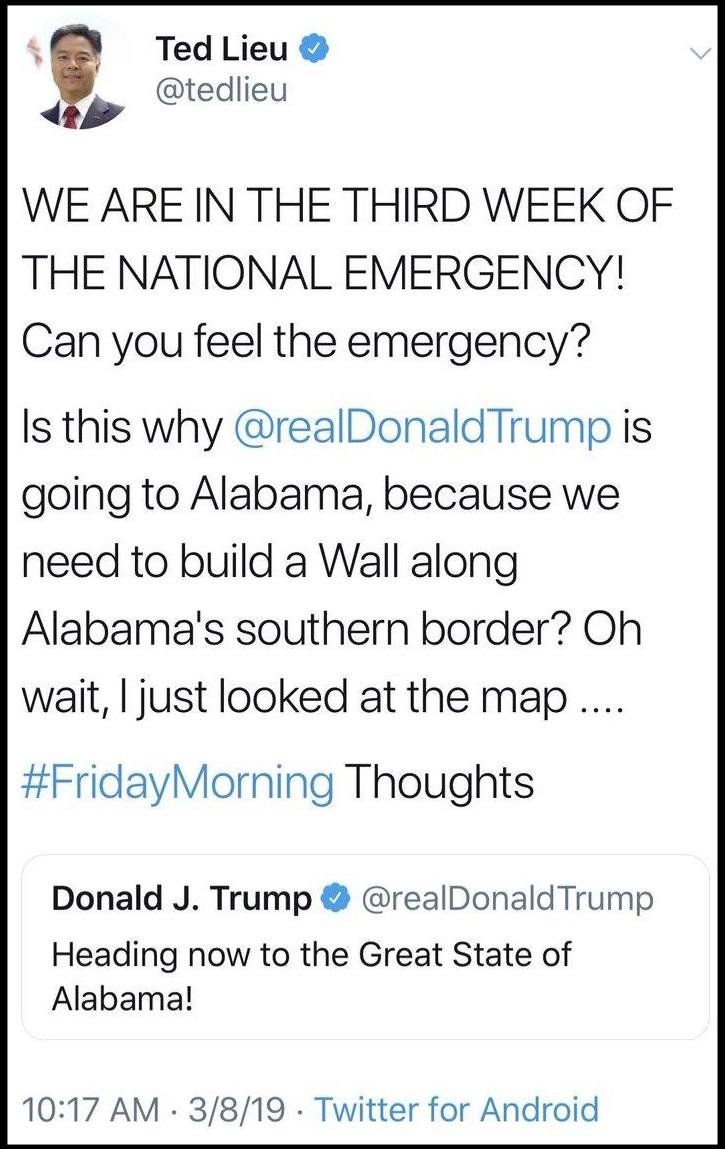 "Is this why @realDonaldTrump is going to Alabama, because we need to build a Wall along Alabama's southern border? Oh wait, I just looked at the map… #FridayMorning thoughts," he added.
What Lieu had neglected to notice is that the president was heading to Alabama in order to meet and help the victims of a horrendous tornadoes that had destroyed many homes and businesses, and caused 23 deaths.
Lieu apologized for the ill-gotten tweet and deleted it.
"I have concluded based on Twitter comments I received that my last tweet was inappropriate," he said in a second tweet.
"I understand the purpose now of the President's visit to Alabama," he added. "I apologize and am going to delete my tweet."
Here's more about Trump's visit to Alabama:
Trump heads to Alabama to visit tornado-ravaged community www.youtube.com

Lieu has been an outspoken critic of President Trump and his policies, and he has utilized his social media presence to lob mockery and ridicule at the president constantly.